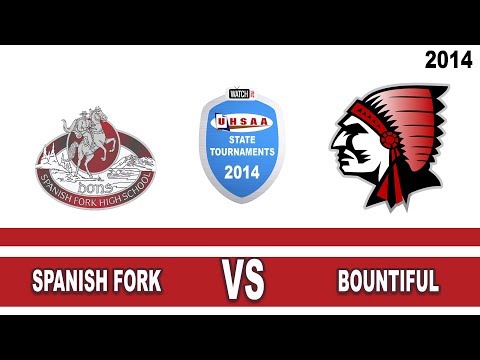 View 11 Items
Buy photos

OREM — Just like basketball.
Winning state championships is becoming contagious at Bountiful these days. A few months after winning the 4A state championship in basketball, several of the players on that title-winning team helped secure the Braves' first baseball championship since 1988 with a 6-4 win over Spanish Fork Friday at Brent Brown Ballpark.
"This feels amazing. I'm going to remember this forever," said Bountiful leadoff hitter Sam Merrill, the Deseret News 4A basketball MVP last winter. "To do this again — to win another championship with a lot of the same guys we won it with in basketball — it's just an amazing feeling right now."
Merrill finished Friday's game with a 1-for-4 effort from the plate that included a key RBI single in the bottom of the second inning to trim Spanish Fork's lead to 3-2. A couple of batters later, Ryan Curtis, who was also part of the basketball team, provided a two-run RBI single and Mason Jones an RBI single to give the Braves a 5-3 lead.
Spanish Fork cut the Braves' lead to 5-4 in top of the fourth before Bountiful regained its two-run margin courtesy of a towering solo home run by Curtis over the right-field fence.
"He's the MVP in the state of Utah. In my opinion he's the best player in the state of Utah. Hands down," said Bountiful coach Clark Stringfellow. "We moved him from (leadoff) to the three-hole spot for a reason. And you saw that reason right there. We knew he would be an RBI guy and he took care of business for us."
Curtis finished the game with a 3-for-4 effort from the plate and four RBIs.
While Curtis led the Braves from the plate, it was all about Parker Depasquale from the mound.
The senior was a bit shaky coming out, but settled down to pitch all seven innings and strike out seven.
"They were hitting my fastball pretty well," said Depasquale of the first two innings when the Dons put three runs on the board. "I then talked to the coaches, and to my catcher Mason (Jones), and we just decided to junk it up the rest of the way. I probably threw just three fastballs the last five innings and it really worked. They knew what was coming and they still couldn't hit it."
The decision to go primarily with off-speed breaking pitches worked like a charm as the Don bats went relatively quiet through the last five innings.
Depasquale's best work perhaps came in the top of the seventh when he sat Spanish Fork down in order for the first time all afternoon.
"It was a great feeling just going out there. I knew I was going to shut them down. I had the confidence and it just happened," he said of his seventh-inning performance.
The final out was a groundout to shortstop that set the team, and the Bountiful faithful, into a frenzy.
"I have a special group of seniors and they are incredible," said Stringfellow just seconds prior to being doused with water by his players. "The student body, the school, just everything that has carried over ... t's just been one big, giant group of people who support each other."
While praising his own team effort, Stringfellow was mindful to heap praise on Spanish Fork, and particularly upon longtime Don coach Shoe Nielsen, who will retire after this season.
"There's no better coach in the state of Utah than Shoe," he said. "I mean, there's a reason why he's won so many state championships and built the program he's built. He's the all-time winningest coach in the state for a reason."
Email: [email protected]
Twitter: @BrandonCGurney