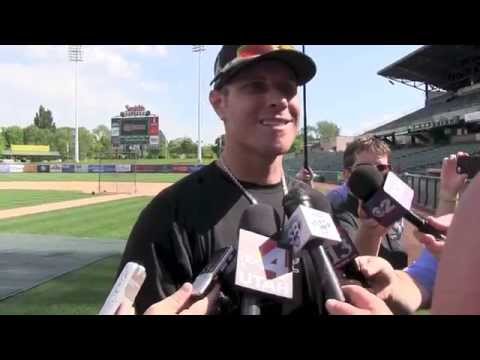 View 23 Items

It's the smallest injury I've ever had, but it's kept me out the longest.

—Josh Hamilton, on his thumb injury
SALT LAKE CITY — Prior to the Salt Lake Bees' game Thursday, Angels slugger Josh Hamilton slowly walked by the right-field stands where hundreds of fans stood to catch a glimpse at the one-time AL MVP. Hamilton spent 15 minutes signing autographs and taking pictures, only stopping when the game was about to begin.
Hamilton is with the Bees on a rehab assignment after injuring his thumb last month.
In a game against Seattle on April 8, the 2010 American League MVP and five-time All-Star injured his thumb sliding head first into first base attempting to beat the throw.
"It's the smallest injury I've ever had, but it's kept me out the longest," Hamilton said prior to Thursday's contest in which he went 2 for 4 with a double in a 1-0 Salt Lake loss to Albuquerque.
The injury and ensuing rehab comprise just another chapter in Hamilton's tale of recovery. From 2001-05, the talented left-hander struggled with drug and alcohol abuse, causing a sure-fire talent to be out of baseball for the better part of three full years.
The Cincinnati Reds took a chance on the 1999 first overall pick and Hamilton returned to professional baseball in 2007.
"When I went to spring training with the Reds it was in Sarasota-Bradenton (Florida) where it all began with the drugs and alcohol," Hamilton said. "It's a good feeling when (God) brings you back around and lets you know you're ready to proceed."
Though the fight this time has been a mere six weeks, opposed to six years, Hamilton feels God has once again given him a chance to return and move forward.
The slugger will be with the Bees through Saturday and will then return to the Angels. His first game back will be in Seattle — the place where he injured his thumb.
"Being in the position to have the injury in the first place is a blessing in itself," Hamilton said. "It's amazing how God brings you back to where you have failures and setbacks."
He may be about to start anew, but Hamilton isn't going to alter how he plays because of the injury.
"Obviously I'm going to do my best to not slide into first head first, but at some point in my career I'm sure I'm going to do it again," Hamilton said. "It's just the way you play. You can tone down a little, but you are not the player you want to be if you completely take stuff away like that. I have learned the last couple years as far as crashing in to the walls and stuff that it's three wins for the walls and no wins for me."
Beelines
Albuquerque 1, Bees 0
Bees manager Keith Johnson's take: "I thought (Hamilton) did really well, obviously the most important thing is he came out of it well there was no setbacks with the thumb. It's a matter of him getting his timing back, I thought he did a really good job in keeping his hands back on that double. For the most part he didn't look apprehensive with his swing, so it was a good night."
Up next: Salt Lake at Fresno, Friday, 6:35 p.m.