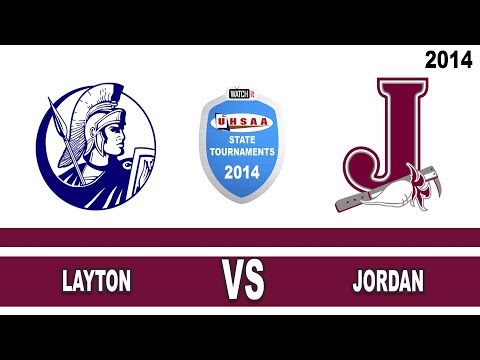 View 2 Items

We're excited, we're so stoked. We've been preparing all year to get here.

—Jordan pitcher Jacob Dirkson, on reaching the 5A championship game
OREM — For the past two weeks, Jordan pitcher Jacob Dirkson had been biding his time, waiting for a chance to shine on the big stage of the 5A state tournament.
That moment finally came Thursday at Brent Brown Ballpark, and the senior made the most of it.
The lefty struck out seven and only allowed two hits — back to back in the fifth — in a complete-game outing that booked Jordan's spot in the state title game with a 9-2 victory over Layton.
With the win, Jordan advances to Friday's championship game against Pleasant Grove at 1:30 p.m. Pleasant Grove pounded Layton 12-0 in the elimination game late Thursday night at UVU.
"We're excited, we're so stoked. We've been preparing all year to get here," said Dirkson, who had great command of his fastball and curveball all game.
The fact that Jordan was able to throw its second-best pitcher on two weeks' rest in the last winners bracket game of the tourney is a luxury any coach in 5A this week would've loved to have.
"Looking at the bracket going in we knew it was going to be tough, but … we knew if we stayed on the winners bracket, pitching we were going to be good," said Jordan coach Chad Fife, who plans on throwing Colton Shaver in Friday's championship game.
While Dirkson had Layton's hitters off-balance all game, offensively Jordan had no problem getting guys on with 11 hits and seven walks. Getting those guys home, however, took a while to figure out as it left seven runners on base in the first three innings.
The 'Diggers did score two in the first and another in the third, but they could've easily blown the game wide open in either of those innings. They finally did in the fifth after Layton had whittled the deficit to 4-2 in the top half of the frame.
With the bases loaded following a double by Mason Krueger and an intentional walk to Shaver, Cale Hathaway laced a bases-clearing double in the gap to push the lead to 7-2.
"I was focusing on staying away because I've been pulling up a little bit and he threw me an outer-half fastball, and I needed to come up big because it was a close game and we needed to blow it open. And I got it good," said Hathaway.
Mason Hayes followed with a two-run blast over the right-field fence for the 9-2 lead.
"If you've been around baseball for a while, that's the way it goes. It's contagious. If a team's not hitting it's like a sickness and if a team starts hitting it's contagious," said Fife.
That was the case for Jordan's Morgan Gomez all game. After going 0 for 4 with four strikeouts in Tuesday's narrow win over Lone Peak, Gomez went 3 for 4 with two RBIs against Layton.
He drove in the game's first run after Layton's pitcher walked the bases loaded in the first inning, and then added another RBI single in the fourth.
Gomez's single in the fourth put Jordan ahead 4-1, but Layton opened the fifth with a single by Rusty Wilbert and a double by Preston Day to cut the lead to 4-2. Dirkson retired the next three batters, however, setting the stage for Jordan's big fifth inning.