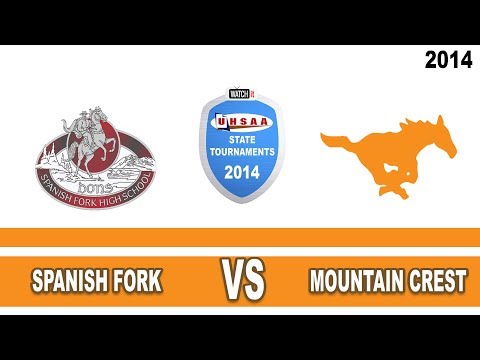 View 2 Items

He can flat-out fly around those bases. He's probably the fastest kid in the entire school, so once he got going we knew he could get all the way around.

—Spanish Fork coach Shoe Nelson, on sophomore Nic Roberts hitting an inside-the-park grand slam
OREM — Spanish Fork coach Shoe Nelson has seen a lot of things over the years, but he's not sure that he had seen what sophomore Nic Roberts did in the top of the fourth inning of the Dons' 16-0 romp over Mountain Crest Thursday.
With the bases loaded, Roberts hit a sharp liner to center field that fell just in front of a diving attempt by Mountain Crest's outfielder. The ball proceeded to roll all the way to the wall, giving the young sophomore a prime opportunity to touch them all.
"Once I saw it get by him I was thinking three, so I just started running as fast as I could," Roberts said. "I get to third and the coach is waving me around to go home so I just kept going. When I got home it just felt amazing."
"He can flat-out fly around those bases," Nelson added. "He's probably the fastest kid in the entire school, so once he got going we knew he could get all the way around."
Roberts' inside-the-park grand slam highlighted the Dons' five-inning assault from the plate that completely overwhelmed the Mustangs.
"We were coming off a high with our two wins yesterday and we just continued that momentum," Nelson said. "We've been resilient all year and we just came out swinging today and kept going."
Catcher Jade Nielsen and third baseman Ryan Golish led the team in hits with three apiece while Roberts led the way in RBIs with six.
As rare as Roberts' inside-the-park grand slam was, it wasn't the only rare feat for the Dons.
Pitcher Brady Bate notched a no-hitter in the five inning contest — allowing just two base runners on two walks.
"He was the player of the game for us and was just tremendous," Nelson said of Bate. "We may have to play two (on Friday) and to come out of there with just him pitching five innings — it could be huge for us. It keeps our arms pretty well-rested for the final day and that's imperative if you want to win these things."
Spanish Fork will take on Bountiful Friday with the charge of defeating the Braves not once, but twice to win the double-elimination 4A state championship.
"Bountiful is a great team who is playing some phenomenal baseball right now," Nelson said. "We're just elated to be there in our first year back in 4A. I love our momentum, I love our team, and we'll go out there and give it the best we can."
Email: bgurney@desnews.com
Twitter: @BrandonCGurney