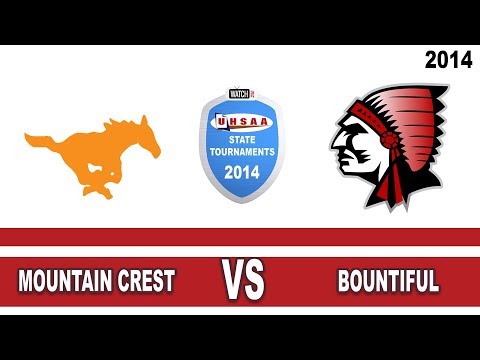 View 2 Items

Tanner threw so well and he wanted the ball in his hands and I was just really proud of him for hanging in there.

—Bountiful coach Clark Stringfellow, on starting pitcher Tanner Redding
OREM — For a moment during Bountiful's 3-2 win over Mountain Crest Thursday, Braves coach Clark Stringfellow felt he might have blown it.
Starting pitcher Tanner Redding had been dominant from the mound, but started to show some wear in the bottom half of the sixth inning and into the seventh. Three hit batters in those two innings, including the leadoff batter in the bottom of the seventh, brought about a call to the bullpen.
Bountiful was leading 3-0 in large part due to Redding's dominant pitching at that point and he wanted to finish what he started.
"He didn't want to come out," Stringfellow said. "He was upset at me and I don't blame him. I'm glad he wanted to stay out there. … Tanner threw so well and he wanted the ball in his hands and I was just really proud of him for hanging in there."
Enter reliever Parker Depasquale, who has been exceptional this season as a starter. Without much warmup time, however, the junior hurler gave up three straight hits and two runs to make the score 3-2 with no outs and runners on first and second base.
"I was looking like the goat," Stringfellow said of the predicament. "I was ready to take the blame for that one. But sometimes if you just continue to do good things — the right things — and trust in the process, then things are going to go your way somewhere. And today that happened for us."
True to form, and the process, Depasquale settled down, forced a 5-3 double play and struck out the final Mustang batter to secure the win.
"Ah, Parker did a great job," Redding said. "I have full confidence in (Parker) and knew he'd get it done."
Depasquale was aided big time by smooth-fielding third baseman Ben Fowers, who worked quickly to turn a double play after snaring a well-hit ball by Mountain Crest's Ty Hall.
"We all kind of thrive on each other a little bit. We thrive on each other's work ethic, and I just think Parker fed off that double play big time," Stringfellow said.
Stringfellow's son, Ryan Stringfellow, jump-started the Braves with an RBI in the top of the fourth for the game's first run. One batter later it was Depasquale bringing Ryan around with a single to give Bountiful a 2-0 lead.
Andrew Naegle, batting ninth in the lineup, provided the third run in the top of the sixth with an RBI double.
"I'm proud of my son for getting up there, even though he'd been struggling from the plate, to get that double in the gap and get us going," Stringfellow said. "And then there's my nine hitter. Our nine hitter has really come up big for us in these last two games."
With the win Bountiful finds itself in prime position to win a state championship that has been a long time coming.
Comment on this story
"We haven't won a state championship since 1988 and now we're (right there)," Stringfellow said. "It's just the icing on the cake for us now and we can eat the frosting. We haven't been known as a baseball hotbed, but we're just proud of who we are, proud of our school and proud of our community and proud of those who have gone before us. This is for everybody."
Bountiful, as the last remaining undefeated team, will have two opportunities to defeat Spanish Fork Friday at Brent Brown Ballpark to win it all.
Email: bgurney@desnews.com
Twitter: @BrandonCGurney