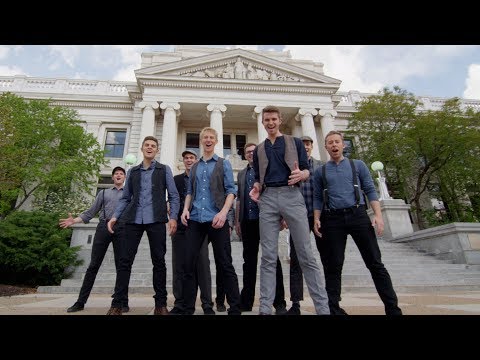 Brigham Young University's a capella group "Vocal Point" and more than 85 BYU dance students released a music video featuring songs from "Newsies" May 20.
"The concept of this shoot is that we're gonna do it in one shot," said Jake Tengelsen, a member of Vocal Point, in a behind-the-scenes video.
The entire group never rehearsed together.
"This entire video is on point and if this doesn't make you smile, you are a monster," wrote Arielle Calderon of BuzzFeed.
The video has received more than 14,000 views and many positive comments.
"This makes me so happy! I've got my man card taken away many times for loving this musical. But, totally worth it," David Cross said on YouTube.
The video features three dance companies at BYU, including the International Folk Dance Ensemble, the Contemporary Dance Theatre and the Ballroom Dance Company.
Megan Marsden Christensen is an intern with the Deseret News writing for the Faith & Family section. She recently graduated from BYU-Idaho with a bachelor's degree in communication.