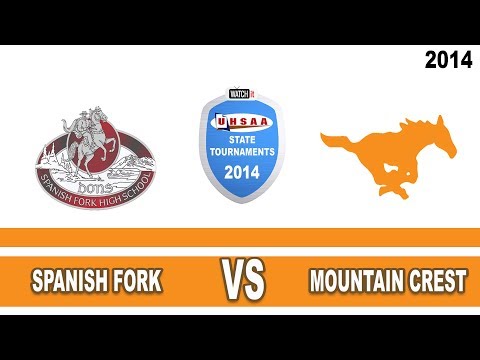 View 2 Items

OREM — Mountain Crest pitcher Ben Weese was admittedly a bit anxious when he took the mound against tradition-laden Spanish Fork, but it hardly showed.
The senior hurler shut out the potent Dons, allowing just five hits and one walk in a complete-game effort to lead the Mustangs to a 6-0 win Tuesday.
Whatever trepidation Weese may have been feeling beforehand subsided considerably after his team put four runs on the board in the top of the first inning.
"It's so relieving," Weese said. "It makes you so much more relaxed and it's so much easier to throw strikes."
Left fielder Luke Smith started the game off with a bang — lining the very first pitch to left-center for a stand-up double. Anthony Peterson and Spencer Coombs followed up with RBI singles and Jack Godfrey added a two-RBI single to help the Mustangs take immediate command of the contest.
"That was huge," Mountain Crest coach Alex Hansen said of his team's first-inning effort from the plate. "Luke Smith's been a stud all year. He came out — first pitch — and drove the ball hard. He set the tone for the game. Hitting was contagious after he hit it."
Contagious for one big inning, at least, as Spanish Fork reliever Tanner Nielsen entered the game to provide 4 2/3 innings of shutout baseball to keep his team within striking distance.
Every time the Dons appeared poised to strike, however, Weese and a stellar defense behind him worked to squash any scoring threats.
"That's been key for us all year — defense," Hansen said. "You know, pitching sets the tone for everything. Our pitchers go out there and attack the zone and our defense, they've got a lot of confidence."
Mountain Crest put up two more runs in the top of the seventh courtesy of RBI hits from Smith and Ty Hall as the Mustangs moved on to the finals of the winners bracket of the 4A tournament.
Following the game, Hansen was obviously pleased and very complimentary toward the Dons.
"When you're coming out and playing a team like Spanish Fork — just the tradition and history there — they're just a phenomenal club, phenomenal organization," he said. "We've got a lot of pride up at Mountain Crest too. We feel like it means something to be a Mustang and we're proud of the tradition of Mountain Crest baseball as well. We wanted to come with an opportunity to come out and show them what Mountain Crest baseball is all about."
Email: bgurney@desnews.com
Twitter: @BrandonCGurney