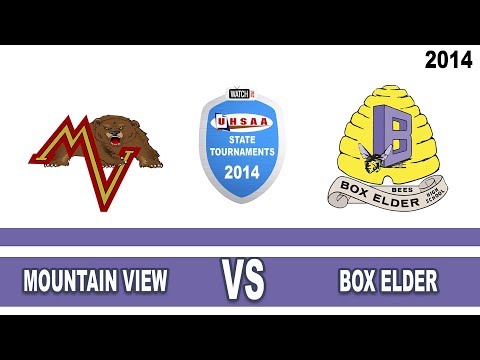 View 2 Items

OREM — With all of Box Elder's players standing up and superstitiously shaking their rally caps in the top of the first inning of their 4A baseball tournament matchup against Mountain View, the Bees set the tone early in their 6-4 victory at Brent Brown Ballpark Monday afternoon.
"It was absolutely huge for us," said Box Elder coach Brett Hubbard of his team's early rally. "It was really good. We set the tone tonight by jumping out and scoring five runs in the first two innings, and luckily, we were able to hold on."
Box Elder's Teagan Hubbard and C.J. Adams were able to get things going with back-to-back, leadoff singles — which Connor Udy followed with a walk — to put some early ducks on the pond for Box Elder's Jayk Brooks.
Brooks then calmly stepped to the plate and ripped a 3-2 fastball to left field to bring home both runners and give the visitors an early two-run cushion.
"Our leadoff (Hubbard) really started the game for us," Coach Hubbard said of his senior star. "He was 2 for 2, but unfortunately he got injured and that kind of took the steam out of us a little bit, because he is the catalyst of our team."
Mountain View (14-13, 8-4) was able to plate one run in the home-half of the first off senior Brigham Bateman's RBI base knock to trim its deficit in half. However, the Bees quickly regrouped before extending their lead in the second inning.
The Bees (17-10, 12-6) rallied for three more runs off just four hits, including a momentous two-RBI double from Hubbard, to take a commanding 5-1 lead after just two innings of play.
"He really comes through for us and knows how to get us going," Coach Hubbard said of his leader. "He was huge for us tonight. He is just a fun, energetic player and he always gets us going in the right direction."
The Bruins were able to make some noise and get runners on base in the fourth, fifth and sixth innings, but the home team failed to plate any runs due to quality pitching and a sound Box Elder defense.
"We made plays when we needed to," Hubbard said. "Our starting pitcher also did a really good job of making pitches when he needed to. He really grinded out there for us tonight and had a quality outing for us."
The Bruins shook off their early struggles and rallied for three runs off Dakota Carlson's two-RBI triple and Parker Bingham's RBI single to put the score at 5-4 after six innings of play.
Box Elder responded, however, as it went on to get an insurance run in the top of the seventh off first baseman McKay Evans' two-out single to put the edge back at two.
1
comment on this story
The Bees went on to retire the side in the bottom of the seventh to put the nail in the coffin and punch their ticket to the next round of the one-loss bracket, where they will take on either Murray or Logan.
"We just need to do the same thing," Hubbard said. "I've got a great No. 2 pitcher who will be on the mound (Tuesday) and it is the same thing. That's just how we have to play — we have to get out there and grind. We need to run, we need to hit, and we just do the same thing as (Monday)."
Ryan Love is a full-time student at the University of Utah studying communications, and has been a part-time sportswriter and scoreboarder for the Deseret News since Oct. 2012.
Follow him on Twitter @RLove7724
EMAIL: rlove@deseretnews.com