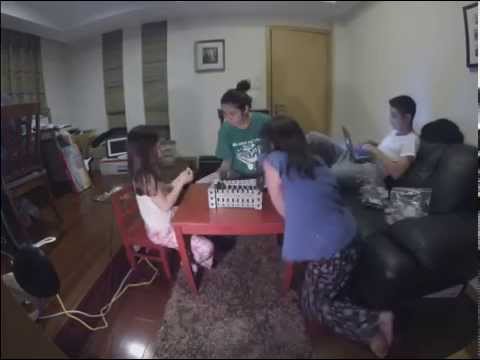 View 4 Items

For 40 years, from 1853 until 1893, the Mormon settlers in Utah labored and sacrificed to construct the Salt Lake Temple. The process of moving and chiseling granite and placing the stones in exactly the right spot was no small feat, especially without the use of modern technology.
Hunter Calton, a 9-year-old boy living in Shanghai, built the Salt Lake Temple by himself in one month. Sharly, Hunter's 4-year-old sister, put the temple together with her dad. Other children have constructed the temple in as little as 4½ hours.
Suzanne Calton, Hunter and Sharly's mother, made it all possible. She's the founder of Brick'em Young, a company that makes a set of Salt Lake Temple toy building bricks.
"We have always had a special place in our hearts for the Salt Lake Temple, as that is where we were married," Suzanne Calton said.
A native of Seattle, Suzanne moved to Provo in 2001, where she met Tim Calton. They were married one year later and moved to Denver for Tim's work in 2003. In 2008, Tim's company asked the family to relocate to Shanghai, China.
While the move was welcome — both Suzanne and her husband served Mandarin-speaking missions — it also took them to a country where the closest LDS temple is in Hong Kong, a two-hour plane ride away. The couple wanted to find a way for their five children to gain an appreciation of the temple.
"Considering our children have spent most of their lives in Shanghai … we tried to think of ways to better connect our children to the temple," Calton said. "We put pictures of temples in their bedroom and when we would come back to the (United) States over the summer vacation, we would go out of our way to visit temples."
The inspiration to create the Salt Lake Temple out of toy building bricks was initially Hunter's idea. The family created custom temple spires and Angel Moroni pieces, but the Caltons knew their brick set was having an influence when Sharly painted a picture of temples for a preschool project.
That gave the Caltons the motivation to mass-produce the toy bricks and start Brick'em Young. The bricks are similar to Legos, although Brick'em Young can't use that brand name as a description for trademark reasons. Currently, the 1,725-piece Salt Lake Temple set can only be purchased at the company's website, but Calton hopes to be able to expand into retail stores in the future.
"The experience of building brick toy temples has brought great joy and excitement to our children," Calton said.
Brick'em Young has also used media to share the excitement with others. One YouTube time-lapse video shows a family putting the temple brick set together over the course of a month. The company also has a Facebook page and a newsletter to showcase families and children as they construct their very own Salt Lake Temple.
Calton describes herself as a "momtrepreneur," and says the company hopes to expand the temple selection in the future.
"We desire to create as many brick temples as people want and would enjoy," she said. The Nauvoo Illinois Temple prototype is in the works and should be available just before the October LDS general conference.
For now, though, children like Hunter and Sharly learn more about the hard work and sacrifice of the pioneers who constructed the Salt Lake Temple while they build their own temples, albeit on a much smaller scale.
"Building these brick toy temples has truly created great excitement for these children and connected them to the temple on a level they understand," Calton said.
Ben Tullis is an intern at the Deseret News and a freelance writer and copy editor. He graduated from Utah Valley University in April 2014 with a bachelor's degree in English. He lives in Pleasant Grove with his wife and 2-year-old boy.