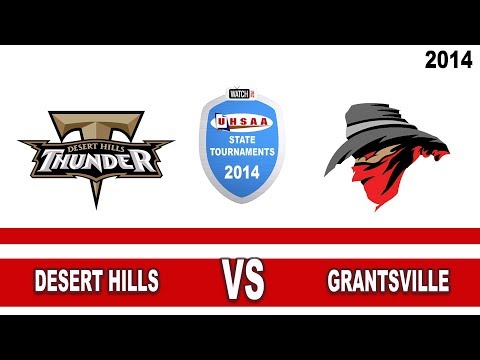 View 7 Items

OREM — Grantsville coach Loren Anderson believed it would happen. And Friday during a thrilling three-run rally in the bottom of the sixth inning, it did.
The result was a come-from-behind 3-2 victory over favored Desert Hills in the final winner's bracket game of the 3A state championship.
From the start of the playoffs, Anderson has preached to his players about an aggressive nature on the base pads and small ball. In his mind, those two things could bridge the gap between his team and favorites such as Juan Diego and Desert Hills.
"We're like the underdog, and that's OK," Anderson said. "So we have to find ways to create runs and create that excitement, so we worked on that and worked on that and I told the kids that's going to win a game for us somewhere in this tournament."
His players put Anderson's words to practice in the bottom of the sixth.
Down 2-0, and struggling to get anything going against Thunder pitcher Brayson Hurdsman, the Cowboys scored in a variety of creative ways to close the gap and then take the lead.
First off was a pretty straight-forward solo home run from Ty Fisher over the left center-field fence.
"Ky is our little spark plug out there," said Anderson. "He just does it all. He just sat on a ball, got a good pitch and powered it. And that was the little spark we needed."
A few batters later, and runners on second and third with one out, Anderson called for the rare and risky suicide squeeze. Dillon Hutchins responded with a small pop up that landed just in front of diving Desert Hills first baseman Blake Betts' glove — scoring Nick Arbon from third and tying the game at 2-2.
"It wasn't the prettiest squeeze you'll see executed, but it worked," Anderson said.
Rather than sit back and try to score in a more conventional method from there, Anderson sent in the signal for another suicide squeeze.
Before the squeeze could take action, Hyatt Barrus decided to force the action from his spot on third base. The junior slugger decided to go for home immediately after Desert Hills pitcher Brayson Hutchins tried to pick off Hutchins off first.
Barrus put down his head and slid in safely at home just in front of the tag for what proved to be the game-winning run.
"It was a suicide squeeze and it was a chance," Barrus said. "I was going on first move and he went over to first. Usually I thought I'd be hosed right there, but the first baseman took a little more time than he needed to, I guess. I wasn't watching, I was just running."
Desert Hills wasn't going quietly, and threatened in the top of the seventh with runners on second and third with just one out. A soft liner to second base and a deep fly ball snared by Grantsville left fielder Clay Matthews provided the final two outs and an unlikely position as the lone undefeated team entering the final day of the 3A championships for the Cowboys.
Despite being the last undefeated team, Anderson, and the team, will take the same mentality into the final day that got them to this point.
"We're still the underdog in this whole thing, so we'll come back with a chip on our shoulder and try and rally it and see what happens," Anderson said. "We're excited to be here."
Email: bgurney@desnews.com, Twitter: @BrandonCGurney