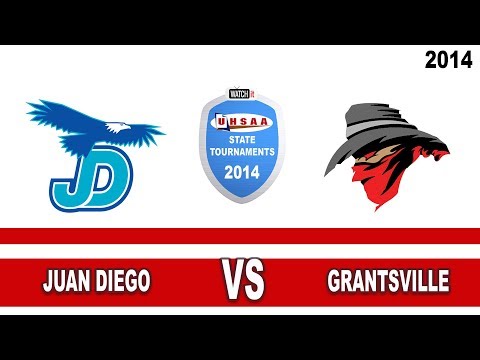 View 2 Items

I don't know if it actually got there, but I know it was far. I got all of that one. I've hit just one harder in my life, but yeah, that one — that one felt great.

—Grantsville's Wyatt Barrus, on his sixth-inning home run
OREM — It wasn't the hardest ball that Grantsville's Wyatt Barrus has ever hit in a baseball game. But it was a close second.
In the top of the sixth inning of Grantsville's 11-7 win over Juan Diego in the 3A state tournament at Brent Brown Ballpark Thursday, Barrus sent a laser shot over the right-field fence that appeared to land right on the University Parkway freeway on-ramp to I-15 — roughly 100 feet beyond the fence.
"I don't know if it actually got there, but I know it was far. I got all of that one," Barrus said. "I've hit just one harder in my life, but yeah, that one — that one felt great."
More important than the distance was the 9-3 lead the two-run shot gave the Cowboys near the end of a two-inning offensive explosion started by Barrus in the top of the fifth.
It was during that fifth frame when Barrus sat dead red on a fastball in a bases-loaded situation, got the pitch he expected, and uncorked it to deep center field. The ball came up just short of clearing the fence, but brought around every base runner to give Grantsville a 4-3 lead.
"He started me off with a change-up, so I knew that fastball was coming," Barrus said. "Credit goes to my teammates in front of the order to get on base and really get it going for us. We needed a lift — I needed a lift — and those guys getting on to load them up gave us that lift. Credit goes to them."
Barrus finished with a resounding 3-for-4 effort with six RBIs from the plate.
"Wyatt has been on fire and consistently gets us big hits, it seems like in every game," said Grantsville coach Loren Anderson. "He completely crushed those pitches and really came through for us in a big way."
As smooth as Barrus' effort was from the plate, his effort from the mound didn't exactly follow form.
The junior battled the best he could, but admittedly didn't have his best stuff in allowing seven runs — six of them earned — and 11 hits through 6 2/3 innings.
"It wasn't my best effort from the mound for sure, but fortunately I had my defense and Matt (Garrard) to bail me out."
Juan Diego didn't go quietly and plated four runs in the bottom of the sixth to cut the lead to 11-7 before loading the bases with two outs in the bottom of the seventh.
It was then that Anderson pulled Barrus in favor of Garrard.
Comment on this story
"I'm proud of how Wyatt battled, but felt we needed to make a change there for that last out," Anderson said. "He had thrown a ton of pitches up to that point, so we just needed a fresher arm in there."
Gerrard got that last out with some big assistance from Clay Matthews, who was able to track down a well-hit deep fly to left field.
"I knew their guy didn't get all of it, but yeah, it made us a little nervous when it left the bat," Barrus said. "Fortunately we have Clary out there and he gets to everything, so it wasn't too big of a worry."
With the win, Grantsville advances in the no-loss bracket and will take on Desert Hills Friday.
Email: bgurney@desnews.com
Twitter: @BrandonCGurney