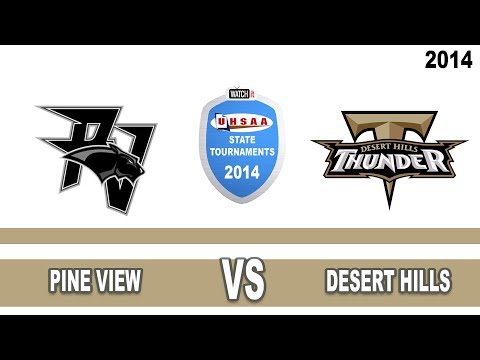 View 2 Items

Coach came out to ask if I was good and I just told him that this was my game. He then told me to just dig deep and do what I can do and I'll come out on top. And that's what I did.

—Desert Hill's pitcher Dylan File
OREM — Desert Hill's pitcher Dylan File wanted it, and coach Jerry Beck had no problem letting him keep it.
The situation was tight.
Cross-town rival Pine View had two on with just one out trailing 3-2 in the bottom of the seventh when Beck approached the mound to chat with his star pitcher.
The conversation was pointed, brief and completely reassuring to all involved.
"Coach came out to ask if I was good and I just told him that this was my game," File said. "He then told me to just dig deep and do what I can do and I'll come out on top. And that's what I did."
From there, File recorded two quick outs — striking out the final Panther to preserve the win and help advance his team to the final winner's bracket game of the 3A state playoffs with a 3-2 win Thursday at Brent Brown Ballpark.
Not only did File record the game-winning out, but also what proved to be the game-winning hit.
Locked in 2-2 tie in the top of the sixth, he unloaded on a high fastball that quickly sent the ball over the left-field fence.
"I haven't been hitting real good lately … so I just saw a high fastball and hit it good," File said.
File's home run was only the fourth Thunder hit of the game as Panther pitcher Donovan Dakota did his best to match File's production. Like his Thunder counterpart, Dakota pitched a complete game — striking out four while allowing no walks.
Dakota's and indeed Pine View's complete team effort left Beck roundly impressed at the conclusion.
"That was one heck of a ballgame," Beck said. "(That game) is why you coach and why you play. There's nothing better than to be in a state tournament in a game like that — pitchers battling their butts off, and it's just unfortunate one of us had to lose that one."
Pine View ultimately doubled up Desert Hills in hits with eight — led by Dylan Draper and Kash Walker, who both went two for three from the plate — but just couldn't get enough runs around.
File was quick to credit those playing behind him for the lack of Panther runs.
"My defense is a bunch of studs, so I just let them do the job," he said.
With the win, Desert Hills advances to take on Grantsville Friday as one of the last two undefeated teams in the double-elimination tournament.
Email: bgurney@desnews.com
Twitter: @BrandonCGurney