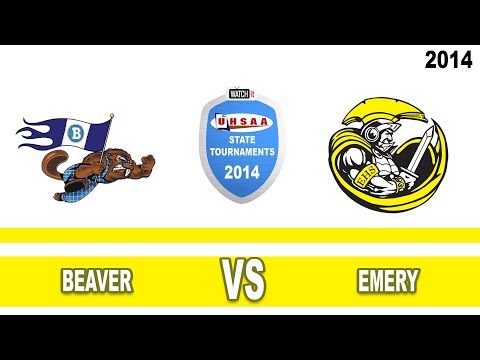 View 34 Items



OREM — It wasn't as easy this time around, but the result was at least as sweet.
Emery reclaimed its crown as 2A baseball champions Tuesday with a 16-9 win over Grand County — its third win of what proved to be a completely exhausting but incredibly rewarding day.
"I'm dead tired so I know they're exhausted. It's a long day, but we stayed focused," said Emery coach Steve Gordon. "We had a goal and we stuck to it."
The Spartans had the task of winning three games as a result of dropping their second-round game to Beaver 4-3. The loss put them in the loser's bracket — a spot unfamiliar to a team that won every tournament game a season ago.
"Last year was a lot easier honestly," said catcher Drexler Tanner. "Having lost that one early and going through the loser's bracket — it's just tougher, but I think it made us come together more as a team. We had to work harder for this one, which makes this one feel really special."
Emery started the day with a rematch against Beaver and quickly fell behind 4-1 before storming back to win by a convincing 13-6 margin.
Next up was Grand and the task of winning not one, but two against a seemingly well-rested Red Devil squad.
In that one, Emery exploded for eight runs in the top of the seventh to extend a slim 4-3 lead to 12-3, leading to not only a decisive victory, but an incredible amount of emotion, according to Tanner.
"That's when I really started thinking that we got this," he said. "Our goal was to keep our momentum going, and we did that. We've been doing it the entire year. It just felt like we couldn't lose."
Grand had no illusions of going down easy heading into the final game and matched Emery run for run until the bottom of the fourth, when the Spartans put up a four-spot to take an 11-8 lead into the final three innings.
"Once we got that bigger lead in the end I thought we looked a little more fresh than they did," Gordon said. "We stayed fresh, and that was surprising. … I think our guys were just focused on winning today."
Emery put things away quite emphatically in the bottom of the sixth.
Some control issues from a weary Grand pitching staff led to four runs, which were topped off by Tanner Lake scoring two runs with a double for a 16-9 lead, which proved to be the final.
For Lake, it was a fitting send-off for a day that included a stellar 11 RBIs through three games.
"It just felt great," Lake said. "I mean, you're so pumped knowing it's for the team, but then knowing it's you who had the hit. I don't know — it's hard to describe it."
Ridge Nielsen then closed the door — pitching a scoreless bottom of the seventh for Emery's second 2A championship in as many years.
After center fielder Gavin McDermott recorded the final out, the entire team stormed the middle of the field, creating a massive pile of exhausted yet completely ecstatic teammates.
"We did it and it feels amazing," Tanner said. "Everybody did it and it took everyone. It took all our great pitchers — everyone through the lineup. Everybody, and we did it. It's just an incredible feeling right now."
Email: bgurney@desnews.com
Twitter: @BrandonCGurney