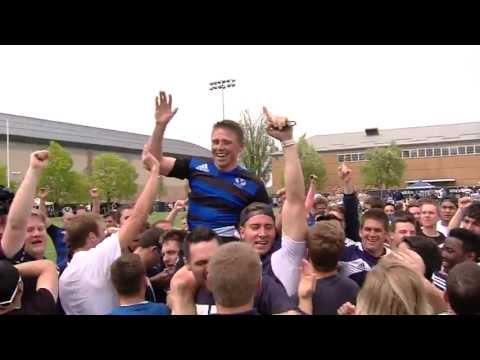 View 4 Items

PROVO — It was the BYU rugby equivalent of Jim McMahon's "Miracle Bowl" pass to Clay Brown and Danny Ainge's dash through Notre Dame defenders in the NCAA basketball tournament.
One year ago, Cougar halfback Jonny Linehan, then a freshman who had only been on campus for a few months, executed an improvisational game-winning drop kick as time expired to lift BYU to a dramatic 27-24 victory over Cal for the Varsity Cup rugby championship.
"It was epic, wasn't it?" recalled BYU rugby coach David Smyth. "That's a good way to describe it. He put it down the middle. I was real excited about that."
At this year's Varsity Cup, Linehan helped the Cougars win their third straight championship with another win over the Golden Bears, but it was the memorable drop kick against Cal in 2013 that propelled Linehan to near-legendary status on campus and earned him the perfect nickname — "Jonny Rugby."
For the sophomore from Auckland, New Zealand, that one play has changed his life somewhat.
When the team was visiting the Lincoln Memorial in Washington, D.C., recently before the Cougars' match against Dartmouth in the Varsity Cup quarterfinals, a BYU alum spotted Linehan.
"You're the guy that kicked the drop kick," the fan said excitedly.
But Linehan likes the fact that play provided more exposure to the Cougar rugby program.
"You get people that recognize you now and then, but more than anything, people recognize the program as a powerhouse," said the 5-foot-11, 185-pounder. "That's what's exciting for us. It's helped the program more than anything. It wasn't just an individual effort."
Drop kicks like the one Linehan pulled off against Cal are not common.
"Shock was the word for it," team captain Kyle Sumsion said of that play. "No one really saw it coming. Cal didn't see it coming. I'm not sure Jonny saw it coming. I couldn't have been happier."
"It caught me off guard. It took me a minute for it to register," said center Paul Lasike. "Then when it went over the crossbar, I thought, 'Oh, we actually get points for that.' "
A few months after The Drop Kick, Linehan found himself outside his comfort zone — on the football practice field in August.
One of the walk-ons on the Cougar football team told Linehan about the rash of injuries that had decimated the defensive secondary, including the season-ending knee injury suffered by starting cornerback Jordan Johnson.
So Linehan asked BYU strength and conditioning coach Justin McClure if he could play cornerback.
"You want to?" McClure asked.
"Just give me a chance," Linehan replied.
Keep in mind that Linehan had never played football in his life. The extent of football experience was watching BYU defeat San Diego State in the 2012 Poinsettia Bowl on television.
He did have a few connections with the football team. BYU quarterback Taysom Hill served as a missionary companion with one of Linehan's best friends.
Linehan met with secondary coach and defensive coordinator Nick Howell, who included Linehan on the roster during fall camp.
"It's a big commitment if you're not on scholarship," Linehan said. "It was pretty cool to have my first football training with a Division I school with a pretty good football team and I had never put on a football helmet before. So it was a pretty humbling experience and one I'll never forget."
For two weeks he tried to play cornerback as a member of the scout team.
"I had a go at playing cornerback. I think corner is one of the toughest positions to learn," Linehan said. "The receivers are so quick and the quarterbacks are so smart. Before you even look, the ball's in the air, and it's already in the receiver's hands pretty much. You have to be able to backpedal almost as fast as the receivers are sprinting. You have to know when to turn, know when to cut. You have to learn all of the terminology in the film session. It was hard for me to grasp. I just tried to keep the receivers in front of me. If they made the first down, it was all right — as long as they didn't get a touchdown. I was terrible, but it was a fun experience."
BYU star wide receiver Cody Hoffman was injured during Linehan's stint with the football team. But Linehan did face the likes of Ross Apo, Mitch Mathews and Kurt Henderson.
"I have so much respect for them. It's fun to have respect from the football guys," he said. "Now and then they'll call me 'Jonny Rugby.' I never had that nickname until after I was with the football team. It's pretty fun. I think that drop kick earned me some respect. They probably treated me a little differently than they would other walk-ons. I knew a little about the sport, but not all the terminology. I didn't know corner was as difficult as it was."
Due to some conflicts, he was unable to remain with the team. But he said he would like another opportunity to play football again.
"I loved it. It was tough. It's a big commitment," he said. "I'd definitely do it again if it works out. Who knows?"
Apparently, BYU football coach Bronco Mendenhall likes having rugby players on the roster. Lasike, who is also from New Zealand, came to BYU to play rugby. He has also played running back for the Cougar football team the past two seasons.
"Coach Mendenhall's dad was a mission president in New Zealand," Linehan said. "He loves his rugby. He loves the rugby team."
Maybe Linehan would be more suited as a kicker. While he missed a few conversions in last Saturday's game against Cal, he had an 80-meter clearance kick (similar to a punt in football).
For now, Linehan has made his mark in Provo as a rugby player.
BYU football has The Pass. BYU basketball has The Drive. And, thanks to Linehan, BYU rugby has The Drop Kick.