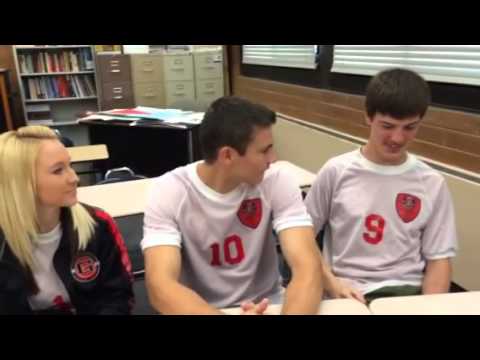 View 3 Items

GRANTSVILLE — Had it not been for the P.E. credit required for graduation, Daniel Gosling might not have been willing to give Unified Soccer a try.
"I wasn't sure," said the Grantsville junior, who participated in the state's first interscholastic league that allowed high school students with intellectual disabilities to compete alongside other student athletes. "Coach Ciervo and my mom said it would be fun, and I needed P.E. credit. I'm neutral on sports."
In fact, like several of his teammates, Gosling had never played organized or competitive sports before Grantsville's athletic director, Patrick Ciervo, approached him about joining the team's first Unified Soccer team a few months ago.
Unified Soccer is a joint endeavor of Special Olympics of Utah and the Utah High School Activities Association. The partnership created a league where special-needs students, referred to as the league's athletes, compete on teams with regular students, knowns as the partners. In addition to several practices each week, the teams compete against each other.
The season ended with the first-ever Unified State Soccer Tournament last weekend. Hosted by Hillcrest, 144 student-athletes participated on 12 teams. The state tournament was divided into divisions, which were based on the season's results.
Grantsville won Division 2, while Brighton was second, Mountain Crest third and Lone Peak fourth. In Division 1, Utah School for the Deaf and Blind and Skyline won the title, with Wasatch second, Bingham third and Hillcrest finishing in fourth. In Division 3, Jordan won the state title with Spanish Fork earning second, Sky View third and Alta fourth. The league was funded with a grant from the U.S. Department of Education and support from the Special Olympics of Utah.
When Ciervo decided to organize a team at Grantsville High, he wasn't even thinking about state championships. He was, however, thinking about the many benefits he thought his community would enjoy through supporting a team.
"We have special-needs students at our school, and I really wanted Grantsville to get involved," he said. "I knew this was something we could really wrap our arms around."
Ciervo felt recruiting the right mix of student-athletes was critical to the program's success. He looked for willing participants, but also those who were leaders at the school.
He knew participating in the soccer league could be more than an enjoyable experience for a handful of students. If handled correctly, this could send a message to the students and the community that supports them that inclusion should be something society strives for everyday.
So he sought students who were both willing and high-profile. One of the first athletes he approached was all-state basketball and football player Devin Adams, who signed a basketball scholarship with Dixie State University.
"I needed a special group of regular athletes, kids that could work with and understand these kids," Ciervo said of the partners. "When I found out Devin had done an internship with the special education (class) last year, and he's one of our best athletes and our student body president, I thought, 'Will I be able to recruit him to play?' "
Ciervo asked, and Adams didn't hesitate.
"He said, 'I'm in. It sounds really cool,' " Ciervo said. "Everyone I asked thought this was a cool idea. They found out it was great for them also."
Adams said it was inspiring to play in the league.
"I was really excited for the opportunity," he said. "I don't play a spring sport, so this was a chance to play something. I was worried that I would be too competitive, and I tried to tone myself down. … But I feed off watching other people have fun. And this was really fun." He said the bus rides to and from games were the best part.
"We watched movies," he said, mentioning "Frozen" specifically. "We sang. … The atmosphere was just different. With other teams, you have headphones on, your head is down, but rides were just travel. Bus rides with these guys was fun."
Gosling wasn't the only student who had some reservations about playing Unified Soccer.
Talisha Tuckett stopped playing high school sports because of concussions. Her parents agreed to let her participate in Unified Soccer with the promise that it wouldn't be a contact sport.
"I was excited because I like playing soccer," she said. "I was worried about the circumstances, like how it would work. It took a few practices to get used to it."
Daisha Bolinder had never played soccer before, but Ciervo encouraged her to play anyway.
"I was pretty nervous," said Bolinder, who is a cheerleader. "I didn't know what to expect. It took a few weeks, but I really liked it."
Brenden Krogh, who claims to be a competent "church ball" athlete, wasn't sure he wanted to play because his older brother told him "soccer is a girl sport."
"My mom got after my older brother, and I started to play," said the freshman. "The best thing was the cheering I got for doing something good in the goal."
John Webb, a 15-year-old freshman, said he agreed to play "because I wanted to get more active."
He grins when he talks about his experience.
"I was a little bit nervous, but excited at the same time," he said. "I was worried what would happen if we didn't do good."
The partners were as thrilled with the team's success as the squad's athletes were.
Adams' little brother, Colton, joined the team after another player was injured, and he said watching his teammates excel was a thrill.
"The experience was awesome," Colton said. "Seeing some of those kids score goals and just be elated."
Like the other partners on the team, Tuckett said she learned a number of important lessons from the experience.
"Anybody can do anything they put their mind to," Tuckett said. "Disabilities don't matter."
At the start of the season, no one was thinking of a state title. But the Cowboys ended up winning the school's first team state championship since 2003.
Interestingly, most of the students said it wasn't the winning that was their favorite part.
"Practices were my favorite part," Colton said. "Just showing up and getting to hang out with these guys."
He puts his arm around Krogh's shoulder, and they exchange barbs.
When asked what he gained from playing Unified Soccer, Gosling shrugged.
"I lost weight," he said. "And I got accused of playing before, and I've never. … I'm glad I did it."
The toughest part wasn't learning the rules or getting in shape.
"It was mainly getting used to new people," Gosling said.
For Krogh, it was realizing he had real athletic ability.
"I learned I'm an amazing soccer player," he said, as his teammates agreed. "I'm a great defender." Junior Sydney Williams admitted the first game "was rough. We hadn't had enough time to really learn all the rules."
She said the group really came together and worked hard to help each other improve each practice.
2
comments on this story
"I learned I have a lot more patience than I thought I had," Williams said with a smile. "They got good so fast. I was surprised how quickly they picked it up." And while the title is nice, Ciervo said even he was moved by how well the students meshed into a unit. The morning of the championship, some of the partners were nervous and it was the special-needs students who kept them calm and helped them focus.
"This really helped the special-needs students build self-esteem and confidence," he said. "They felt part of the normal athletic wing of the school. … All of the kids are feeling good about themselves. … This was just a really great experience."
Twitter: adonsports
EMAIL: adonaldson@deseretnews.com