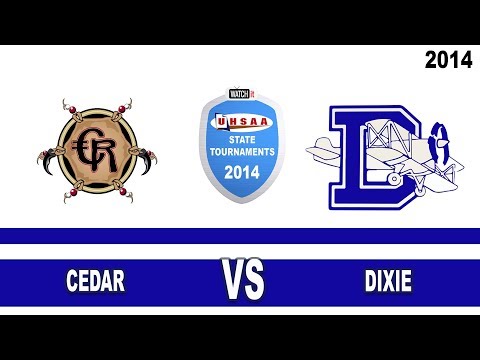 View 4 Items

This one is really fun. We have a lot of young men and a lot of cultures, and they brought it together and every one of them loves each other. I think that's our biggest goal.

—Dixie head coach Burt Myers
SANDY — Like most teams, the boys on the Dixie soccer team started the season with their sights set on the 3A state championship match.
The title team in 2012, the Flyers knew what it took to get to Rio Tinto Stadium, and doing so again was never out of the question.
The primary goal, however, said head coach Burt Myers, was to take a group of boys with varied talents and backgrounds and turn them into a united team with a single focus.
The Flyers capped both of their season goals on Saturday afternoon, defeating Region 9 rival Cedar City 3-1 for the 3A championship.
"This is the sweetest — the last one is always the sweetest," Myers said. "This one is really fun. We have a lot of young men and a lot of cultures, and they brought it together and every one of them loves each other. I think that's our biggest goal."
This one, Myers added, stands out a little above that last because of the sacrifices his players made to benefit the team both on and off the field.
"A lot of these young men that I've coached work 20 hours a week," he said. "They help provide for their families and then they come out and give us this. It's just awesome. That's why it's so sweet."
It was a sophomore who put the Flyers on the board first. Midfielder Tyler Bennett controlled the ball in the 10th minute, drove around the attacking Cedar goalkeeper, and placed the ball in the back right corner of the net.
"I just saw him coming through and I was like, 'hey, this is what we practice,' " senior captain Caesar Perez said of the opening goal. "I saw it set up perfect for us. You've got that one-on-one tippy toe, and I wanted to cry almost on that one because he scored."
Nearly eight minutes later, Perez knocked in the second goal off an assist from junior forward McLane Keenan.
"We read the papers and we knew that (scoring quickly) is what they try to do," Myers said of the Cedar game plan. "So we just tried to reverse it and said, 'Let's go and get two on them and stick it right away.' "
Midway through the second half, the Flyers added a cushion when Keenan connected with senior Luis Rabago for their final score of the contest.
"We were able to (get ahead) and held on, got that third goal and that helped us out a ton," Myers said. "We got to play a little more relaxed."
Cedar City junior Brett Sillitoe allowed the Redmen to avoid the shutout when he edged past the Dixie goalkeeper, shot, and hit the ground as the ball bounced into the net in the 62nd minute of play.
The Flyers ended the regular season as the No. 2 seed from Region 9 and defeated two region champions — Payson and Juan Diego — to reach the title match. Meanwhile, Cedar, the fourth-place team from Region 9, advanced to Rio Tinto with upset victories over Region 11 champion Stansbury, Region 10 No. 2 Park City, and the champion from their own league, Pine View, in the semifinals.
Dixie split its regular season games with the Redmen with each team winning away from its home field. Fortunately for the Flyers, familiarity was on their side on Saturday.
"We kind of expected how they were going to play against us," said Perez. "We played really fast, one-twos, opened the field up on them because it's big. Plus, it's rivals so everyone is on their game. No one wants to lose to their rival."
"We challenged each player to trust his teammate, do your job, do it well and believe in each," Myers said, "and that's what we did."
Now, the Flyers will return to St. George and display their first-place trophy at the school for all to revel in the success of the soccer team. However, Myers' bigger team goal, the relationships developed along the way, will last well beyond the conclusion of the season.
"In, say, 10 years, one of these young men has his son at a grocery store and he sees another one over there and says, 'hey, I played soccer with him. Let's go meet him,' " Myers said. "That's what we worked for, and I think we've achieved that."
sthomas@desnews.com
Sarah Thomas earned a degree in Mathematics from the University of Utah and is currently pursuing an MBA at Westminster College. She has been covering sports for the Deseret News since 2008.