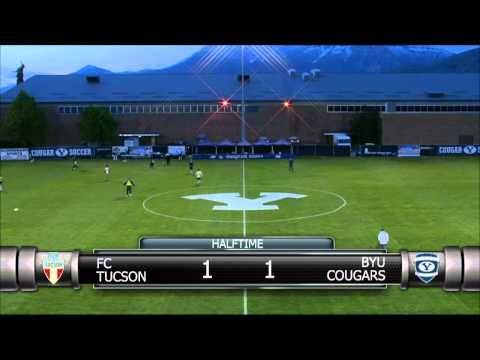 View 2 Items

PROVO — In the second game of the season, the BYU men's soccer team beats out FC Tucson, 3-2. The Cougars come out on top in their undefeated season.
"We did not have our best game tonight," said head coach Christopher Watkins. "We did some great things in the offensive third and will be working hard in practice the next week."
FC Tucson's number 7, Tommy Ramos, scored the first goal off a header in the 32nd minute. The Cougars followed with a goal of their own from Matt Rider in the 36th minute. Pedro Vasconcelos assisted the goal.
Multiple cautions were awarded throughout the game. A yellow card was awarded to FC Tucson's Ricardo Velazco in the 38th minute after a hard tackle on BYU's Jace Green.
At halftime the Cougars were tied 1-1. Early into the second half, Scott Heaton crossed the ball to Kip Critchlow who scored for the Cougars off a header in the 53rd minute. Following the Cougar's goal, in the 54th minute Ricardo Velazco from FC Tucson scored their second goal tying the score once again.
In the 70th minute, a yellow card was shown to number 8, Jonathan Junca, from BYU for hard tackle. In the 73rd minute, a caution was awarded to Blake Frischknecht for a tactical foul.
The Cougars winning goal was scored in the 76th minute by Winston Sorhaitz off a cross from Scott Heaton.
In the 90th minute, two cautions were awarded, one to Pedro Vasconcelos from BYU and Eli Galbraith-Kanapp from FC Tucson.
Comment on this story
The Cougars will play the San Jose Earthquakes (U-23) on South Field on May 17, 2014. Kickoff will be at 7:30 p.m. Tickets are $6 for adults and $5 for children. Season passes are available for $25.
The Cougars hold a 5-0 preseason record and a 2-0 season record. BYU competes in the USL Premier Development League (PDL), the fourth tier of the American Soccer Pyramid. The Cougars have competed in the league since May 2003. BYU's team is the first university-sponsored soccer program to purchase a franchise and compete at a higher level.
For more information on the team, please soccer.byu.edu. Follow the team on Twitter @BYUsoccer.