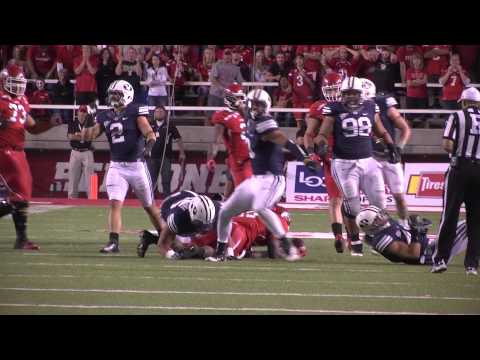 View 62 Items


Tick, tick, tick.
We are on the eve of the long-awaited 2014 NFL draft, and for many college football players with ties to the state of Utah, their future job prospects will become clearer over the next few days.
That means there are plenty of opinions going around about how the draft will unfold, and there are plenty of national experts dissecting the attributes of former BYU linebacker Kyle Van Noy. He is being projected to be anywhere from a late-first round to a third round pick.
"I try to ignore all of the mock drafts and everything, because they're not paying the bills. Those people are not picking me, and they're not people that are making the decisions of the teams," Van Noy wrote in his final USA Today draft diary before this weekend's event. "It's cool to be talked about and all that, but at the end of the day, that stuff doesn't really matter to me."
Even if Van Noy discounts the talk, we take a look at what national pundits are saying about the 6-foot-3, 243-pound prospect:
NFL Network's Mike Mayock said Van Noy's decision to stay for his senior season at BYU, instead of leaving after his unforgettable performance in the 2012 Poinsettia Bowl, helped the linebacker. "He became known as one of the best all-around linebackers in college football. There's been a buzz about him the last month or six weeks. The buzz has been he does everything well. I'm not sure he has one outstanding trait where you go, 'Wow, that's awesome.' But he does everything well. He did rush. He can drop. He can play inside, outside.
"People are trying to figure out where best to play him. His versatility is a huge plus. I've got him as a solid second rounder right now, and I think he's going to be a real good NFL player."
Van Noy's versatility is among his greatest traits, though his relentless motor can sometimes cost him. Said Alex Kozora of Steelers Depot: "He's been asked to cover every inch of ground on the football field. That versatility is a big plus. Especially in subpackage football. Van Noy won't have to be taken off the field because he can't fulfill a certain assignment.
"As good as he is at getting to the ball, he has to work on finishing and bringing the ballcarrier down. Gets overly aggressive and takes poor angles or simply can't finish the tackle."
Tyler Dunn of the Milwaukee Journal Sentinel said the BYU 'backer has proven himself to be a playmaker, as evidenced by his five defensive touchdowns as a Cougar: "Van Noy became the game-changer at the most opportune moments. Third downs. Fourth quarters. Bowl games. At the combine, Van Noy said he feels like an offensive player on defense."
One of the teams that has shown interest in Van Noy is the San Diego Chargers, where he would be teamed with another Mormon linebacker, Manti Te'o. Van Noy told The Mighty 1090 AM Radio he is a fan of the Chargers and wouldn't mind playing in San Diego. Ricky Henne of Chargers.com said, "The 6-3, 243-pounder is regarded as having some of the best natural football instincts available in this year's draft. Combine that with his athleticism and it's easy to see why he is a true three-down linebacker."
Troy E. Renck of the Denver Post reported that Van Noy is on the Broncos' radar, not a bad place considering Denver made it to the Super Bowl last season: "A playmaker who registered 13 sacks last season. Athletic enough to play in coverage. Projects as late first- or early second-round pick."
Rob Rang of CBSSports.com compares Van Noy to the Minesota Vikings' Chad Greenway. The Vikings' outside linebacker is a two-time Pro Bowler and has nine interceptions and 11 fumble recoveries in his seven-year pro career. "Greenway might just be the best all-around outside linebacker in the NFL, and comparing any rookie to him is therefore hyperbole. Van Noy plays with similar instincts and efficiency, however, making plays behind the line of scrimmage as well as dropping back into coverage with impressive consistency."
Rang also ranked Van Noy No. 32 in his mid-April big board, saying he "ranks among the elite defenders in the entire class."
ESPN NFL draft expert Mel Kiper moved Van Noy up to 24th on his big board in April: "Jumped up my board after I spent more time watching him on tape. Just looks like he's playing faster than everyone else."
Van Noy went on a pre-draft visit to the Lions in April and, if drafted by Detroit, would be reunited with BYU defensive teammate Ezekiel Ansah. Dave Birkett of the Detroit Free Press listed Van Noy as the third-best overall linebacker prospect, calling him "a do-it-all type" while Justin Rogers of MLive.com said Van Noy could be given a chance to overtake Ashlee Palmer for a starting job if drafted by the Lions.
Some of the other teams that have shown interest in Van Noy include the Atlanta Falcons, Jacksonville Jaguars and Baltimore Ravens. Van Noy visited with the Jaguars in early April, and NFL.com's Bucky Brooks has him headed to Jacksonville in his latest mock draft: "Van Noy's versatility makes him an ideal fit in Gus Bradley's hybrid defense."
Nolan Nawrocki of NFL.com said Van Noy could prove to be more than just a 3-4 linebacker: "Good-sized, athletic, smooth-moving stand-up player who projects best as a 3-4 right outside linebacker, but could also warrant consideration from 4-3 teams as a Will or Sam. Is not without flaws, but has unique ability to play up the field, laterally or in reverse."
Email: [email protected]; Twitter: @brandonljudd