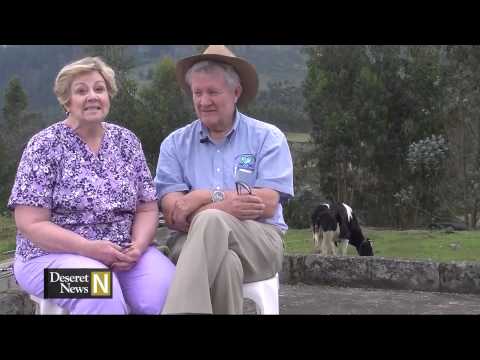 View 4 Items



On this week's Deseret News National Edition, an international religious freedom scorecard grades all members of Congress, an Idaho couple discusses their efforts to delivery charity all over the world through their foundation, and Vai Sikahema gives tips for time management.
Segment 1
The Venn Institute has released a midterm International Religious Freedom Scorecard, grading all members of Congress. Dave McCann discusses the results with Lindsay Vessey, executive director of the Venn Institute.
In recent weeks, "The Ten Today" series has been examining how the Ten Commandments are being lived today. The eighth commandment admonishes us not to steal. Deseret News reporter Michael De Groote shows us what stealing looks like in the digital age.
Segment 2
The cinderblock house surrounded by dirt sits next to a cornfield. The roof has a few holes, a huge detriment in the Andes mountains. Inside, the only piece of furniture is a bed the family of three sleeps in. Above the bed hangs a picture reflecting the family's faith and hope. The picture shows Christ healing the sick. The mother is blind.
For months, she has been experiencing serious abdominal pain but did not know where to get help. Then one afternoon unexpected help arrived.
"I feel that on teach trip there was a specific group or specific persons that we need to find and help. It usually involves a miracle," explained Susan Carter of Twin Falls, Idaho. For over two decades, nearly half their marriage, she and her husband, Gordan Carter, have been on a mission to deliver charity wherever it is needed, and that has led to many great adventures all over the world.
In Ecuador alone, the foundation has served an estimated 600,000 people over the last 10 years.
The Carters discuss their humanitarian efforts with McCann. http://www.charityanywhere.org/
Segment 3
Centuries ago, it was two stone tablets that bore the decree, "Thou shalt not make unto thee any graven images." But the digital world poses a new question: Has social media given rise to a new form of self-worship?
National Editor Allison Pond offers this modern perspective on the second commandment
Successful time management is a challenge for a lot of people. Dave McCann asked former NFL player and Philadelphia broadcaster Vai Sikahema what works for him.
The Deseret News National Edition highlights Deseret News content centered around six areas of editorial emphasis: family, faith in the community, excellence in education, values in media and culture, causes related to helping the poor and financial responsibility. Each week, the program goes in-depth on these topics and brings insights from voices from around the country.