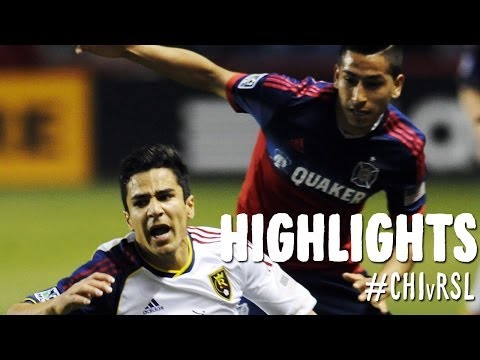 View 7 Items



Soccer is 90 minutes, and every week something happens. Last week it happened to us, and our feeling was, 'Why can't we do the same thing this week?

—RSL midfielder Kyle Beckerman
BRIDGEVIEW, Ill. — Three times this year, Real Salt Lake watched late leads vanish before settling for disappointing ties.
On Saturday night, RSL changed its own narrative and delivered late-game magic by scoring two goals in the 90th minute and extra time, overcoming a two-goal deficit for an improbable 3-2 victory over the Chicago Fire.
"Soccer is 90 minutes, and every week something happens," said RSL midfielder Kyle Beckerman. "Last week it happened to us, and our feeling was, 'Why can't we do the same thing this week?'"
RSL (4-0-5, 17 points) remains the only undefeated team in MLS.
Forward Joao Plata orchestrated the comeback by scoring in the 72nd minute and drilling the game-winner off a beautiful cross from the left edge by fellow forward Alvaro Saborio in the 93rd minute.
On the winning goal, Saborio advanced the ball down the left edge and lofted a sharp cross that Plata timed perfectly on his finishing run. The two players demonstrated a natural and intuitive affinity for finding each other.
"We have a great chemistry. We play well together, and fortunately tonight, we were able to make things happen," Plata said.
Saborio tied the game 2-2 on a virtually identical goal, taking a cross from Abdoulie Mansally and finishing with one touch into the right corner.
"That's what we want to do in that situation, possess the ball in those areas and not just get a whipped ball from wide but a nice service from 10 or 15 yards inside," RSL coach Jeff Cassar said.
RSL confronted a somewhat desperate Fire team (0-2-6, 6 points) intent on winning its first game of the year. Salt Lake also had a recent history of failure playing here, going just 1-4-3 in its history.
Chicago was energized and aggressive at the start. Star forward Mike Magee, the league's reigning MVP, blasted home a rebound in the 22nd minute after RSL 'keeper Nick Rimando made a superb diving block off of midfielder Harry Shipp's initial ball.
Rangy Chicago forward Juan Luis Anangono smashed home a header in the 30th minute as RSL's 12-game unbeaten streak in regular-season play dating to last September appeared seriously in doubt.
RSL found its rhythm late in the first half, though the club was stymied by two spectacular saves by Fire 'keeper Sean Johnson. The mood was far from somber or downbeat at the break.
"We were actually pretty happy with how things were going," Cassar said.
"We created several good chances and Sean Johnson made a couple of unbelievable saves. At halftime, the talk was positive and we said, all it taks is one, and once you get one, everybody starts to get a little nervous.
"The guys never stopped working and the quality in our attack was fantastic."
RSL broke through in the 72nd minute.
Working up top, midfielder Javier Morales slotted a ball into Plata, who turned and fired from about 16 yards out. His shot curled inside the near post, and that changed everything, alerting RSL to the shifting momentum and reminding the Fire of its own failure to protect late leads.
"Our main focus was, let's get one, get some momentum, and then you get the second and after that, you never know," Beckerman said. "Nobody likes to be down 2-0. We weren't playing that badly. We gave up two shots, and we felt like if we continue playing the way we were and create chances and get a little tougher in the back, the comeback was possible."
With two starters — midfielder Ned Grabavoy and defender Chris Schuler — and the team's general manager Garth Lagerwey all having grown up in nearby Chicago suburbs, the mood in RSL's locker room was exuberant.
"I'll remember a game like that forever," Beckerman said.