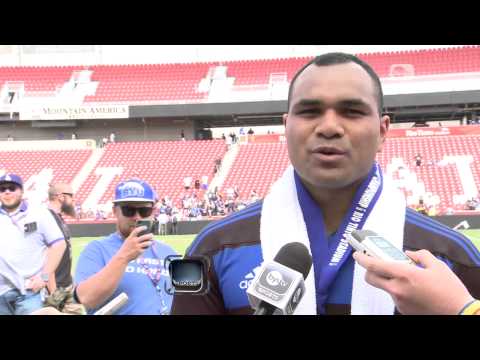 View 32 Items

It just shows the hard work the boys in the program have done. It's great. … It feels good right now. I'm just happy for the guys.

—BYU coach David Smyth, of the Cougars' three consecutive titles
SANDY — Surrounded by his jubilant teammates on the turf at Rio Tinto Stadium, BYU's Jonny Linehan smiled and held up three fingers for the cameras.
His Cougars had just defeated arch-rival Cal, 43-33, in the Varsity Cup national championship match, and the three fingers symbolized what BYU had just accomplished — a college rugby three-peat.
"I haven't given any thought to it. It's fantastic," coach David Smyth said of the Cougars' three consecutive titles. "It just shows the hard work the boys in the program have done. It's great. … It feels good right now. I'm just happy for the guys."
BYU knocked off Cal last year in dramatic fashion in Provo on a game-winning drop kick by Linehan with no time remaining.
This time, no last-second heroics were necessary.
Playing before a predominantly pro-Cougar crowd of 10,172, BYU never trailed, although Cal continually put pressure on the Cougars.
"We knew coming into this game that it was going to be 80 minutes of pure contact," said BYU captain Kyle Sumsion. "I'm proud of our boys for answering back. We'd take a hit, but we gave it right back at them. That's what won us this game, I think. We never laid down to them."
"Our plan was to get out early in the gates," Smyth said. "All credit to Cal. We knew we were in for a battle and they made us work hard for it."
At times, it appeared that BYU was going to blow out the Golden Bears, particularly after grabbing a 22-7 advantage late in the first half. But a Cal try by Miles Honens just before the half sliced the deficit to 22-14.
Then the Bears struck again early in the second half to make it 22-19.
But the Cougars answered moments later as Luke Mocke streaked up the middle for a try to lift BYU to a 29-19 lead.
"I was a little concerned because we gave away a try just before halftime," Smyth said. "We talked about that in the locker room. We said, 'In the next 10-15 minutes, they're going to come out like a man possessed.' We needed to try to quell the storm they threw at us. They got within three, then we punched another one in to go up by 10. We answered the bell today."
BYU added to its lead when Linehan made a nifty pass to Josh Whippy, who scored a try up the middle to make it 36-19 for the Cougars with 20 minutes remaining.
But Cal didn't let up, scoring twice in the final 14 minutes, including a try with no time remaining. Fortunately for BYU, Whippy scored another try at the 2:20 mark to provide the Cougars with a little breathing room.
"We had a little more comfort this year than we had last year," Smyth said. "But at my age, it's not over until you hear that final whistle."
BYU's Paul Lasike said "consistency" was the key to beating Cal.
"They scored right before the half. The first part of the second half was key. They scored, then we answered right back. Then we stayed on the pedal from there on out. (Cal is) an 80-minute team."
Cal coach Jack Clark lamented his teams' turnovers, but praised BYU.
"They've had an incredible season. They were very, very good today," Clark said. "We had opportunities today and they answered the bell today. We had to play an extremely clean game to win."
Smyth liked the fact his team was ready to play Saturday. "Our boys probably had more will to win and were a wee bit more physical," he said.
Now the Cougars can take a well-deserved rest. Sumsion admitted he was exhausted after playing Cal.
"I feel pretty beat up right now," he said. "I'm ready to take a cold shower and go to bed."
He and his teammates are sure to have sweet dreams after locking up a three-peat, however.
"It was 80 minutes," he said, "of fun rugby."