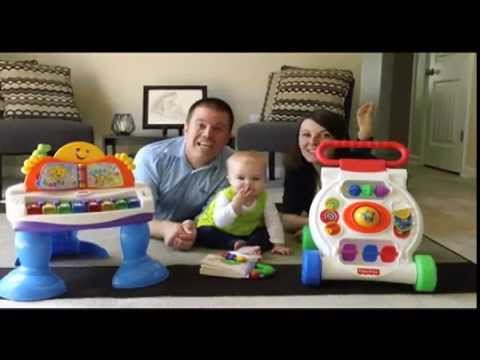 Nate Eaton idolized one person growing up: Oprah Winfrey. As his cousin, I was used to him following me around asking for an interview with a hairbrush microphone. Now, it's his turn stand in the spotlight.
On April 21, Nate and his wife Erica announced they were expecting their second child via a parody of Taylor Swift's "We are Never Ever Getting Back Together," and their YouTube video has attracted the attention of national media outlets.
Just a few months ago, the couple from Richmond, Virginia, who are members of The Church of Jesus Christ of Latter-day Saints, were adjusting to family life with 10-month-old baby Emerson. But Erica had felt sick for weeks and decided to take a pregnancy test. Suspicion turned to shock at the familiar purple positive line.
"I thought it was a joke," Nate said. "It must be an old test!'"
Erica, so surprised by the news, burst into tears.
"I thought it was going to be the Erica and Emerson show for a while. I didn't know what to do with two babies," Erica said.
Shock eventually gave way to excitement, and then the question was how to share the news with friends and family. As a senior reporter for WRIC TV8 (an ABC affiliate), Nate wanted a clever way to announce this breaking news. He suggested a music video.
Erica isn't always enthusiastic about her husband's big ideas. For their honeymoon, Nate was on "The Price is Right." Their first anniversary landed them both on "Let's Make a Deal," with Erica dressed as a sock monkey and Nate dressed as a banana.
"The whole story is, I go along with it," Erica said. "I never want to do it, but then I'm glad."
They won two trips on "Let's Make a Deal" but had to decline both due to the upcoming birth of Emerson.
Erica relented on the music video birth announcement.
You're shocked/So are your friends/So are our friends/So are we
It came down to either Katy Perry's "Roar" or Taylor Swift's "We are Never Ever Getting Back Together."
"Erica is a big Taylor Swift fan, so we went with that," Nate said.
Within about an hour, Erica had the lyrics down, reflecting many of their initial feelings, including "I remember when we had a baby the first time/Saying this is it, I've had enough/'Cause like, we hadn't slept an hour in a month."
The actual production was stalled for weeks as Nate hoped that friends within his professional network could shoot the video.
"But I was starting to show," Erica said. "We just had to make it ourselves."
So, 13 weeks into the pregnancy, Erica's sister hit record on a tiny digital camera. In one morning, the couple filmed, edited and uploaded their announcement to YouTube and Facebook, sending out the link to friends and family. The headline read, "Please excuse our voices ... but we want to share some big news with you."
That afternoon, Nate went to work at the news station, surprising his colleagues with, "We are having having having another baby! Ten months past we got this down!" The station posted the video. It took off, and immediately became the most-watched video on the main page. Then, the "Today" show reached out to Nate on Twitter.
After a phone interview with Erica, the story and video were posted on Today's Moms section, but within two hours it was the lead story.
"Then everyone picked it up," Nate said. "We couldn't believe how big it got. It's just crazy."
ABC's "Good Morning America" mocked the singing but thought baby Emerson was adorable and featured the music video on the show. The sharing continued, with thousands of views on sites like The Huffington Post, UKDailyMail and almost 100,000 views on GodVine alone.
He likes the fun stuff but covers the hard stuff
As a reporter, Nate Eaton is used to being on television every day. He covers the hard stuff — the tragedies, fires, car accidents and the D.C. sniper execution. He covers the big political stories; he was tapped to ask President Obama a question during the 2012 campaign and was assigned to interview Ann Romney during the election. Still, he was rarely recognized.
That's changed. It's been a week, but everywhere he goes, people know he's the guy having, having, having another baby.
"Just the other day, I was at a red light and a woman kept honking at me until I rolled down my window. She yelled congratulations and said how happy she was for us," Nate said.
While covering a NASCAR race in Richmond, he was recognized several times by people who congratulated him and Erica on their latest edition.
With some mortification, Nate and Erica acknowledge the singing criticism.
"If we knew it was going to be on "Today," there's no way I would have kept singing!" Nate said.
"We know the singing is bad. We get it." Erica adds. "We did it for fun. We didn't think everyone in the country would watch."
"Maybe it went viral because the singing is so bad," Nate said.
"The Ellen Show" producers have expressed interest in featuring the video on their Mother's Day show, and "Good Morning America" wants to continue following the pregnancy with a possible baby gender reveal in the future.
But viral birth announcement or not, "we're just so excited," Erica said. "We can't wait."
"For the record," Nate added, despite what he sang, "I always wanted more than one."
A writer from New Hampshire, Amy Makechnie grew up with Nate Eaton following her around asking for an interview. This time, she was happy to ask the questions. You can find her on Twitter @Amymakechnie and blogging at www.maisymak.com.