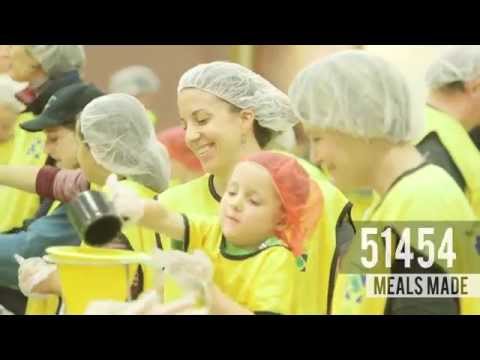 View 4 Items

RANCHO SANTA MARGARITA, Calif. — More than 800 members of The Church of Jesus Christ of Latter-day Saints in Orange County came together with the community to prepare and package 100,000 meals in conjunction with Stop Hunger Now on Saturday, April 26.
"For our Mormon Helping Hands project this year we wanted to do something that really makes an impact, and I think feeding 100,000 children does that," said Jeff Shields, a member of the LDS Church in the Rancho Santa Margarita California Stake and one of the organizers of the event.
In attendance at the event were several politicians and religious leaders from around Orange County.
Brad McGirr, mayor pro tempore of Rancho Santa Margarita, California, noted the number of children and families involved: "You can talk to kids about their duty to other people until you're blue in the face, but until they get in and physically do it, they'll never learn. It's great to see so many kids here physically helping other people."
Mayor Scott Voigts of Lake Forest, California, noted that events like this were the reason he entered politics. "You go where there is a moving vehicle. At events like this and with the help of other people, we can all make a big contribution."
Stop Hunger Now is a nonprofit organization that ships food and supplies to school meal programs and orphanages worldwide. To date, it has shipped more than 141 million meals to needy children in more than 65 countries. According to Stop Hunger Now, a child dies from hunger every six seconds, and with the help of people like the LDS members in Orange County, it is working to change that.
For more information see events.stophungernow.org/helpinghands.
Marci Sparks is a graduate of the University of Utah and Arizona State University and has currently set aside her passion for teaching to be a full time mom to 3 crazy, wonderful boys. EMAIL : marcisparks@hotmail.com