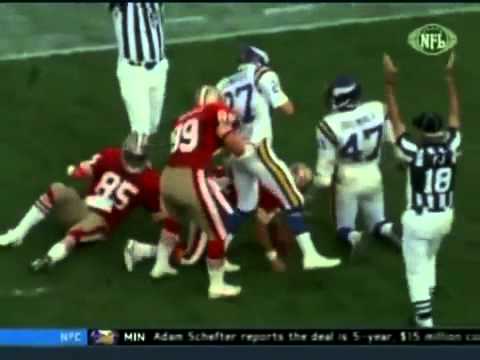 View 12 Items


He's the guy that seems to really thrive in chaos. That's an innate quality that you don't see very often. Johnny's very improvisational; I think that's a fun part of the game.

—Steve Young, on Johnny Manziel
Johnny Manziel is one of the most talked-about prospects in this year's NFL draft pool, and he has drawn comparisons to a former quarterback with strong Utah ties.
NFL draft guru Mike Mayock recently told USA Today he sees similarities between the Texas A&M quarterback and former BYU great Steve Young.
"When Steve first came out of college and the USFL, he was a run-first quarterback who was scary good. He's a smart guy, and yet he struggled to make the best of both worlds, going through his progressions to make the easy throw," Mayock said.
"Johnny's got the arm strength. He's got intelligence. He's got the wow factor. Now he's just got to learn to win by making some NFL throws from the pocket. And if you can combine the two of them, I think you have a Pro Bowl, Super Bowl-winning type of quarterback.''
Young threw for 33,124 yards and 232 touchdowns in his storied NFL career and carried the San Francisco 49ers to a 49-26 victory over the San Diego Chargers in Super Bowl XXIX, throwing a record six touchdowns that day. He also earned a pair of other Super Bowl rings as a backup to Joe Montana.
When his 15-year NFL career ended, Young had the highest passer rating (96.8) among NFL quarterbacks who have thrown at least 1,500 passing attempts, and he is currently ranked third.
In addition to his passing skills, Young was deadly on the ground, rushing for 4,239 yards and 43 touchdowns in his NFL career.
Now he's got his bust in the Pro Football Hall of Fame, in addition to being a College Football Hall of Fame inductee.
Manziel, meanwhile, threw for 7,820 yards and 63 touchdowns in his two years at Texas A&M while rushing for 2,169 yards and 30 more scores. During his freshman year in 2012 when he won the Heisman Trophy, Manziel rushed for 1,459 yards and 21 touchdowns.
It's those type of skills that made Hall of Fame wide receiver Jerry Rice tell "NFL Total Access" following Manziel's pro day in March he sees flashes of his former 49ers teammate Young in the brash young signal caller.
"He reminds me a little bit of Steve Young because Steve Young, when he first came in, he wanted to run the football," Rice said. "Now, with Johnny Manziel if he can just relax, stay in the pocket, deliver the ball down the field with accuracy and get the ball in the hands of his playmakers, I think it's a no brainer for the Houston Texans to take this guy (with the draft's top pick)."
Manziel was accurate at Texas A&M — completing 68.9 percent of his passes — and became known for making plays on the run.
"He's the guy that seems to really thrive in chaos," Young told Yahoo! Sports. "That's an innate quality that you don't see very often. Johnny's very improvisational; I think that's a fun part of the game.
Young agrees with Mayock and Rice, though, that Manziel needs to learn to become a pocket passer — a must in the NFL — and gave his suggestions for who Manziel could resemble.
"That'll be the challenge for Johnny — if he's willing to do the boring work behind the scenes day in and day out, over years, he can be Drew Brees," the former Cougar said. "He can be (like) guys that have moved around in their careers — Aaron Rodgers. Aaron Rodgers could scramble around for 100 yards if he wanted to, but he's learned the game. That's what Johnny is going to have to do."
Email: bjudd@deseretnews.com; Twitter: @brandonljudd