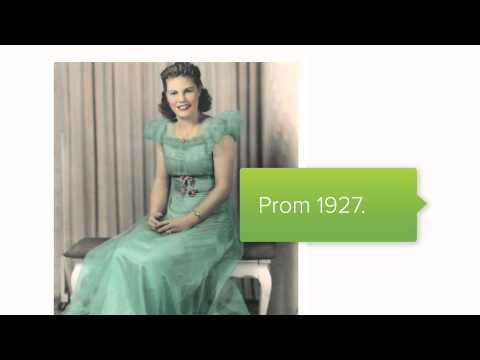 View 5 Items

Photos are kind of a quick hook, the thing that gets people initially interested. We've found that people who visit FamilySearch are more interested in stories and photos.

—Brad Young, FamilySearch product manager
FamilySearch.org launched a new feature called "Memories" in April 2013, but media campaigns, which include billboards, TV and online advertising to promote the feature, recently began.
The "Memories" feature allows FamilySearch users to share photos, stories and documents online — and to then tag and link them to ancestors in virtual family trees.
The focus is less on "genealogy," which can seem daunting and technical, and more on "family history." FamilySearch users can connect with family members through photos and stories — a concept FamilySearch has referred to as "Hearts Before Charts."
Photos, of people or family heirlooms and artifacts, can be scanned, uploaded and given a virtual home on the Internet through the "Memories" tab.
FamilySearch product manager Brad Young, who grew up with a mother who was passionate about genealogy, had a cedar chest in his house filled with his late grandmother's possessions. One night, he felt impressed to look through it.
Young described how it felt for him to hold and connect to his ancestors through old family photos.
"For me, she (my grandmother) was a name on a piece of paper," Young said. "I had never seen her before. I picked this one photo up and I had a visceral connection."
Turning the photo over, Young read the handwritten description and learned that it was a photo of his grandmother at age 1. After examining hundreds of photos and documents, Young was able to further piece together the life of the grandmother he had never known.
"I got to see my grandma grow up through photos," Young said. "I got to see her grow up in a way I hadn't before."
Young's experience reflects the overall purpose of the "Memories" feature — to challenge the reputation that family history work is distant and impersonal by asking FamilySearch users to virtually connect as closely as possible with their relatives and ancestors.
"Photos are kind of a quick hook, the thing that gets people initially interested," Young said. "We've found that people who visit FamilySearch are more interested in stories and photos."
An additional feature of "Memories" is the ability to pair uploaded photos with stories. Once FamilySearch users upload photos and documents, they have the option of adding text to appear alongside the images.
First-time "Memories" users can navigate the website with just a few clicks:
1. Log in to FamilySearch.org with your username and password, or create an account.
2. Click on the "Memories" tab on the top of the website.
3. Select from the dropdown menu which type of memory you want to share (photo, story, document, etc.) and begin uploading.
Once materials have been uploaded, their contents can be tagged and shared on various social media platforms. Users can then add stories and descriptions to accompany their photos.
As the "Memories" feature allows the lives of ancestors to be shared and explored on a more intimate level, FamilySearch employees hope more members of The Church of Jesus Christ of Latter-day Saints will see family history as something everyone can do.
"There is the ability to connect," Young said. "('Memories') creates a much richer picture and connects family members to family trees."
To view an example from the "Memories" campaign, click here.
Email: kguderian@deseretnews.com