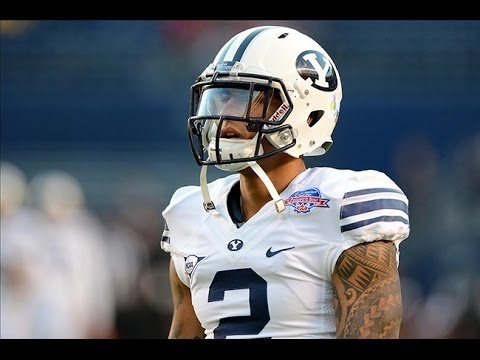 View 14 Items

Cody Hoffman was arguably the best wide receiver to ever wear the blue and white for the Cougars. He has the most receiving yards and touchdown catches in BYU history, even while catching from many different quarterbacks throughout his career.
Hoffman broke onto the national scene his junior year, when he caught 100 passes for 1,248 yards and 11 touchdowns. After that, he was respected as one of the top receivers in the nation. Hoffman's best game came at the end of his junior season, when he tallied 12 catches, 182 yards and five touchdowns. He also finished his college career with 43 straight games with at least one reception.
NFL.com's official combine stats for Hoffman list him at 6-foot-4, 223 pounds, with a 4.65 40-yard dash and a 27.5-inch vertical leap.
Will Hoffman find the same success in the NFL? If he does get drafted, where will he end up playing? Is he limited physically? Here's what the experts are saying.
NFL.com's Nolan Nawrocki listed more weaknesses than strengths in Hoffman's game. "A big, outside-the-numbers possession receiver with good length and hand-eye coordination to fend for a roster spot as a No. 4 or No. 5 receiver."
Nick Lee of boltbeat.com lists Hoffman as an under-the-radar receiver in the draft. "If the Chargers find themselves in the 6th or 7th round and are not feeling satisfied with the receiver position, they should consider Hoffman. … He would be a safe 7th round pick."
Steve Silverman of CBS New York says Hoffman will contribute to whatever team drafts him, and projects him going in the seventh round. "He looks like a dependable receiver on short- and medium-depth pass routes. He can be a dependable third-down receiver who keeps drives alive."
Nolan Kuzmick of thefantasygreek.com says Hoffman's skill set is similar to Anquan Boldin's, and Kuzmick expects Hoffman to have a great career. "Overall, Hoffman is an ideal outside receiver who will be a steal in this year's draft. He could use improvement with his release off the line and out of press coverage as well as speeding up coming in and out of breaks. With that being said, he has the frame and tools to develop into a top tier receiver. He would make a team happy with their third round pick."
Charlie Campbell of walterfootball.com lists many more strengths than weaknesses in Hoffman's game. He projects Hoffman to be drafted between the fourth and seventh rounds. "Hoffman would be a nice fit as a Z (flanker) receiver in a West Coast offense. The Z does a lot of dirty work with blocking and running slants, cross and digs in the short to intermediate part of the field. A big, tough receiver like Hoffman would fit that role well."
Dave Syvertsen of ourlads.com doesn't like Hoffman as a draft prospect but expects him to be drafted because of sure hands. "He failed to stand out and I think he will struggle to make an impact in the NFL. At his size, I'd expect a player to be more physical, but Hoffman was often tossed around by the stronger defensive backs he was matched up against. In addition, he doesn't have deep speed and struggles to run himself open underneath."
Peter Smith of withthefirstpick.com compares Hoffman to Marques Colston of the New Orleans Saints. "Hoffman has value in his ability to move the chains, but he has shown that he is more than that and he warrants a second day pick, but could be a terrific value if he lasts until day three."
Follow Trent Christiansen on Twitter @TheRealTrento.