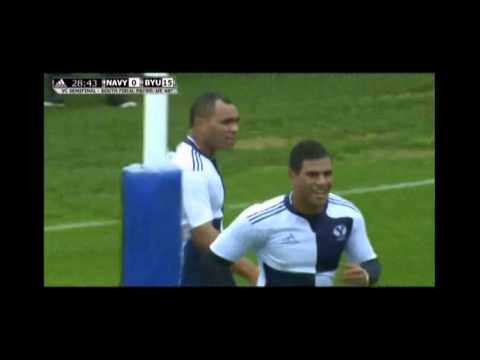 View 2 Items

If anyone thought rugby star Paul Lasike would be a bit rusty after participating in BYU football's spring camp, he certainly proved them wrong in BYU's 60-0 rout of No. 5 Navy on Saturday. He clearly fits right in with the Cougars' dominant rugby squad.
Just check out this play. Everything about it is incredible.
First, you have a difficult behind-the-back pass from Jonathan Linehan to Joseph Nicholls. That pass alone was good enough to make the highlight reel. Nicholls followed it up with an impressive one-handed pass of his own to Lasike.
Lasike did the rest.
An unfortunate Navy defender tried to tackle Lasike high. Lasike literally shrugged that poor defender off.
No, really.
Lasike didn't even need to stiff-arm the guy. He shrugged his mighty shoulders and the next moment the Navy defender was rolling on the turf while Lasike ran in for the try.
He didn't even slow down.
California better have payed attention to what Lasike and his teammates can do. The Golden Bears and the Cougars face off for the Varsity Cup on Saturday at Rio Tinto Stadium. That should be an excellent game given what we saw BYU do against Navy.
Lafe Peavler is a staff sports writer for the Deseret News. Follow him on Twitter @LafePeavler.