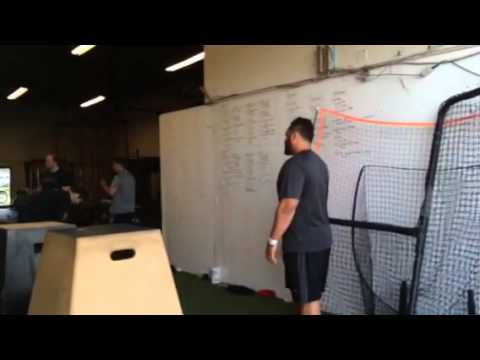 View 16 Items

SANDY — Gavin Farr has lived his life as a long shot.
When he was an offensive lineman at Northridge High in Layton, he knew he wanted to play college football.
Even though he received more interest from baseball coaches than football coaches, he knew he was good enough to play the sport he loves in college.
All he needed was an open door.
He eventually found one, opened ever so slightly for him, at Southern Utah University.
"I knew I was good enough to play in college," he said. "I just needed a chance to prove it. I got a partial scholarship to SUU and right off the bat, before camp ended, I earned more scholarship money. By the following year, I had a full-ride."
In four years, he earned multiple all-conference and Big Sky awards.
But instead of using his college degree to find a desk job, the 23-year-old is once again searching for an opportunity to prove himself capable of beating even bigger odds. Farr wants to earn a living playing football in the NFL.
"I just really loved football," he said. "I wasn't ready to give up the dream, and I feel I'm good enough."
He isn't alone.
Hundreds of young men who played at colleges large and small, for programs that won and with teams that struggled, have declared themselves eligible for the 2014 NFL draft. Most of them are only familiar to scouts and the most diehard college football fans. They know the road they've chosen is difficult and that the likelihood of them succeeding isn't very good.
But for guys like Gavin Farr, slim possibilities are nothing new.
"It's always been my dream to play in the NFL," said Karl Williams, a fullback from Utah. "Since I was little, it's always been my dream, going through high school, even going through times that were hard, when I wasn't playing or getting big numbers. I think it's every football player's passion."
John Madsen understands that passion. It's what helped the former Utah receiver earn a roster spot with the Oakland Raiders as an undrafted free agent in 2008. After three years in the NFL, Madsen now runs a training center in Sandy and is working with a handful of athletes hoping to put themselves in the best position possible when a call comes — whether that's late in the draft, to sign as a free agent, or to receive an invitation to a minicamp or team camp.
Madsen, who owns and operates John Madsen Performance, said the group sort of came together accidentally. But he believes they will improve their chances of achieving their dreams by working together, even though each guy's situation is unique.
"It's a huge benefit for them," Madsen said. "It's far superior for them to be training in a group than individually. They're used to doing that. Football is a team sport, and it helps them focus their training. They all have the same goals."
That's evident on Friday morning as the athletes engage in partner and head-to-head drills that include box jumps. When Madsen decides Williams needs a greater challenge, USU defensive lineman AJ Pataiali'i decides he wants in on the action. Williams finishes with three consecutive jumps onto a 46-inch box, after which Pataiali'i asks Madsen if he can give the biggest box a try.
"No," Madsen said, explaining there is too much to lose. But Pataiali'i is confident, and the coach eventually relents.
The 311-pound lineman jumps onto the tallest box, landing as he has every time, confidently and softly. Even Madsen shakes his head in disbelief while congratulating him.
Training alongside Farr, Williams and Pataiali'i are Utah tight end Jake Murphy, USC offensive lineman and Cottonwood alum John Martinez, Utah center and Jordan graduate Vyncent Jones, and Utah wide receiver Sean Fitzgerald.
Some of the players were sent to Madsen by their agents, others referred by friends. One thing Madsen can teach them that other trainers may not know is how to maximize even the smallest opportunities.
"I can put into perspective what each day means, calm them down, lay out a road map of where they're going, what to expect," he said. "I think every guy's situation is a little bit different, but there are common issues."
Murphy, for example, is the only one in the group who left college early, and he's projected to be drafted anywhere from round five to seven. He said he was being encouraged to consider the draft even before he started his junior year last fall.
Murphy's season looked like the perfect year to catapult him into the NFL until he broke his wrist. Still, even with only eight games, his numbers were comparable to the other tight ends in this year's draft.
"That's something that's really helped me."
Murphy said one factor for him was his age. Because he took two years off to serve a mission for The Church of Jesus Christ of Latter-day Saints, he's 24. The American Fork alum is the son of six-time National League All-Star Dale Murphy and the younger brother of Shawn Murphy, a Utah State alum who spent five years in the NFL after being drafted in the fourth round by Denver.
"My goal is to play football as long as possible," said Murphy, who is married with a 1-year-old daughter. "That might be two weeks; it might be six years. This gives me the best situation possible."
He said people often believe that because he decided to leave early, he must have some guarantee he's not talking about.
"People sometimes assume that you've been promised something," he said. "Like a second-round draft pick or something. That wasn't really my mindset. I know there is a good chance I can get drafted. I also know that anything can happen."
That's what all the athletes are banking on.
Despite their different paths to this year's draft, the young men share another common trait. Instead of allowing adversity to deter them from their dreams, they've used it to propel them.
Martinez was one of the hottest high school recruits in the state when he chose to play at USC five years ago. But coaching changes and crippling penalties to the program by the NCAA made for a rough road. He started most of two years until coaches benched him partway through his senior season.
He learned to rely on himself and his teammates. He learned to be resilient and determined. Even during his toughest times, he said he never gave up his ultimate goal — to make an NFL roster.
Martinez said he has a lot to prove, especially to people who still believe he won't make it because he chose the Trojans over a Utah school.
"There are still some people out there who said I shouldn't have gone to USC," he said. "That I wouldn't have had that kind of season if I'd stayed here. ... I don't regret it at all. I loved my time there."
Williams understands having something to prove. Unlike Martinez, he didn't get a shot at a major college program out of high school. 
Instead, he was offered a scholarship at SUU. He took it, but after a year decided he wanted to take his chances as a walk-on at Utah.
"I just didn't think I'd be able to (achieve) my dream if I was at SUU," he said of his decision to walk on at Utah his sophomore season. "I just knew it would be so much harder."
His parents let him move home to save money and by the next season, he'd earned a scholarship.
"My whole life I've proved people wrong," Williams said, noting that silencing doubters is something that motivates him. "And they probably don't believe I'm going to get picked up in the NFL. But they'll be surprised when I do."
Both Martinez and Williams helped themselves with phenomenal pro day performances.
While Williams turned heads at Utah, Martinez participated at USC. Though some athletes like Murphy and more heralded prospects like Utah's Trevor Reilly and BYU's Kyle Van Noy had the chance to show their skills at the NFL's combine, others had only a few minutes at a pro day, where scouts attend a workout at select college campuses.
"It's really nerve-wracking," Martinez said of the pro day tests. "The toughest part was the bench test and the (40-yard dash) because I don't think I've ever had so many eyes on me, guys staring with watches and clipboards. Sometimes I had to stop and take so many deep breaths to calm myself down."

Most of the guys training together at JMP with Madsen enjoyed great performances at their pro days.
"It's amazing what a good 40 time can do," said Williams, who ran a 4.50 at Utah's pro day. "And then they see my films and realize, 'Oh, he can play.' I'm just grateful to be getting the looks."
The reality is that bad pro day numbers can end the dream for anybody but a star.
"For a small-school guy, it's make or break," Farr said. "If you don't put up the numbers that are going to make people look at you, it's not going to happen."
Murphy said they were asleep when his brother was drafted in the fourth round, so he's expecting just about anything. Others are prepared for the worst, hoping simply for an invite to camp or an offer to interview as a free agent.
"I'll be disappointed," Murphy said of not being drafted. "That's probably the most unsettling part about this whole thing. ... If it happens, that's great. If it doesn't, then that's a bridge I'll cross when it comes. I'm just trying to get myself ready for anything."

And then he points to what the Super Bowl champs did with a roster riddled with guys just like the group in Madsen's gym.
"The Seattle Seahawks kind of proved why it doesn't matter," Murphy said. "Twenty-one of their players were undrafted free agents. If you feel like you can play, stay healthy and go out there and work harder than everyone else, you can do it."
John Martinez
School: USC
Position: Offensive Line (guard)
Height: 6-foot-2 1Ž2
Weight: 315 pounds
Pro day stats
Vertical: 25 inches
Broad jump: 8-foot-1
Bench Press (225 pounds): 42
40 time: 5.19 seconds
AJ Pataiali'i
School: USU
Position: Defensive lineman (tackle)
Height: 6-foot-3
Weight: 311 pounds
Vertical: 31.5 inches
Broad jump: 9 feet
Bench press: 29
40 time: 4.94 seconds
Gavin Farr
School: SUU
Position: Offensive line (guard/center)
Height: 6-foot-2
Weight: 305 pounds
Vertical: 29 inches
Broad jump: 8-feet-10
Bench press: 31
40 time: 5.1 seconds
Karl Williams
School: Utah
Position: fullback/running back
Height: 6-foot-0
Weight: 250 pounds
Vertical: 35 inches
Broad jump: 9-feet-11
Bench press: 21
40 time: 4.5 seconds
Jake Murphy
School: Utah
Position: Tight end
Height: 6-foot-4
Weight: 250 pounds
Vertical: 33 inches
Bench press: 24
40 time: 4.7 seconds
Vyncent Jones
School: Utah
Position: offensive line (center)
Height: 6-foot-3
Weight: 305 pounds
Vertical: 27 inches
Broad jump: 8 feet
Bench press: 24
Twitter: adonsports EMAIL: adonaldson@deseretnews.com