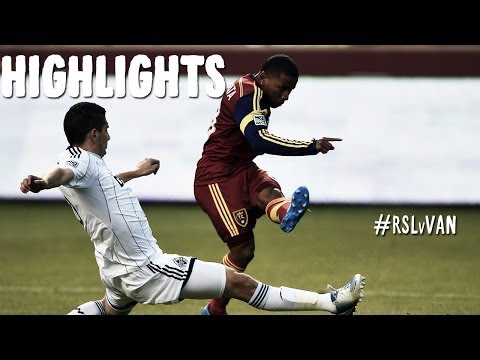 View 21 Items

Real Salt Lake entered Saturday's home-field game with the league's only unbeaten record, Nick Rimando teetering on the all-time shutout record at 111 and just minutes after hearing the team just ahead of them in the standings, FC Dallas, had endured a 4-1 walloping by DC United. Saturday had to be about taking care of business. Joao Plata and Alvaro Saborio wasted no time posting goals in the second and 9th minute respectively to put RSL on top 2-0 going into the half.
RSL took the pitch in the second half with a clearly defensive mindset, determined to earn Nick Rimando his 112th shutout and a share of the MLS clean-sheet record. But it was not to be as Vancouver got a late-minute rebound-goal off a Rimando save. The game ended up being a bookend story, with Real earning two goals in the first 10 minutes and Vancouver two in the final 15, with the last coming off a rocket from Sebastian Fernandez to make the score 2-2 for RSL's fifth tie of the season.
Goalkeeper
Nick Rimando didn't have much to do Saturday night due to a tremendous effort from the boys in front of him, but he was very good once again with his distribution. Watching Rimando launch balls out of the box right onto the feet, heads and chests of his players is a lot like watching F-21s launch laser-guided missles. It cannot be understated how important great goalkeeper distribution like Rimando's is to the flow of a possession-oriented team like Real Salt Lake. Rimando was on his way to a clean sheet, and the tie for most shutouts ever when he saved one shot only to see the rebound find the back of the net off a Nicolas Mezquida shot in the 86th minute.
Grade: A-
Defenders
Tactics
Last Saturday, Nick Rimando hit a major career and MLS milestone with his 111th shutout. He deserved all the accolades, to be sure, but RSL has supplied him over the years with one of the best defensive backlines in the league, and Saturday night's quartet of Tony Beltran, Nat Borchers, Chris Schuler and Chris Wingert continue to be rock solid this season.
Tony Beltran continues to be an offensive threat up the wing in RSL's narrow diamond formation. Saturday, his positioning off the ball was very good, while uncharacteristically he suffered a couple of on-the-ball gaffes that gave Vancouver a couple of chances.
Chris Schuler continues to show why RSL is one of the least-scored-upon teams in Major League Soccer this year with his physical but refined style of defensive play. He was the reason RSL retained a clean sheet into the 25th minute when Vancouver forward Kekuta Manneh found himself streaking through RSL's box looking to get on the end of a short cross from the corner when Schuler appeared out of nowhere and cleanly knocked the cross down in one breath and tackled it forward in the next. The rest of the game saw him make several more very good plays. Saturday wasn't perfect, but it was perhaps one of Schuler's best nights in a Real uniform.
Nat Borchers, when you think about it, is the foundation upon which RSL has built much of its defensive strength on over the years. Between Borchers, Kyle Beckerman and Rimando, they have never had a losing season, and usually find themselves in the playoff hunt. Borchers continued his stellar play Saturday night. What few balls got through RSL's organized defense seemed to end up at the feet, or head, of Borchers. Sadly, his discontinued tracking run across the 6-yard box in the 86th minute allowed Vancouver's Nicolas Mezquida to get into position for his put-back goal, and put Vancouver back into the game with its first goal.
Chris Wingert continued his steady play Saturday night, keeping the left side pretty much locked down while contributing to a shared-assist in the second minute for the game's opening goal. His yellow card in the 65th minute was probably warranted but came while Wingert was applying exactly the right level of pressure in the midfield.
Grade: B+
Midfielders
Tactics
Luis Gil's hamstring injury continues to hamper his return to the 18, but with RSL's depth at midfielder, there's no need to hurry his recuperation. Luke Mullholland filled in once again for the missing 21-year-old. Kyle Beckerman (captain), Javier Morales and last week's game winner, Ned Grabavoy, also remain in the starting lineup.
Luke Mullholland earned his second assist of the season when he dummied a Chris Wingert ball through to Joao Plata in the second minute for the game's first goal.
Javier Morales was brilliant in the final third Saturday, picking the Vancouver midfield and defense apart on numerous occasions, creating chances and disrupting any flow they tried to build out of the backfield.
Kyle Beckerman was supremely calm holding off the Vancouver midfield much of the night while finding opportunities to get forward into the attack several times, including a 22nd minute curling three-toe shot that sailed centimeters wide of his upper far post.
Ned Grabavoy continued his romp of tremendous play Saturday night, earning an assist in the 9th minute when he calmly sent a centered ball out of traffic at the top of the 18 to a waiting Alvaro Saborio, who curled a beauty into the net.
Sebastian Velasquez (Sub '63) didn't bring quite the level of attacking zip to the game as the player he replaced when subbed on, but he was solid. His decisions continue to improve, as does his patience.
John Stertzer (Sub '89) made his MLS debut Saturday night, subbing in for stoppage time minutes in place of Javier Morales.
Grade: A-
Forwards
Tactics
Joao Plata returned to the starting lineup Saturday night beside Alvaro Saborio. Plata started right where he left off when he last started for the boys in Claret and Cobalt with a goal in the second minute reminiscent of Ned Grabavoy's winner last week.
Alvaro Saborio scored the game's second goal in the 9th minute when he was posted on the right side of the box but played off a ball through the middle of the box where Ned Grabavoy collected it and sent it right back to an open Saborio, who first-timed a beautiful curling ball into the far-post upper 90. He pinged another near goal off the crossbar in the 79th minute off a gorgeous Javier Morales free kick. Saborio put too much foot on the ball in the 94th minute in the midfield, ending up giving it away while Vancouver's Sebastian Fernandez received it only second later, and seconds before the final whistle, blasting a rocket from 30 yards out to give Vancouver the tie.
Joao Plata had barely taken a step on the field when Chris Wingert sent a forward ball to Luke Mullholland, who dummied the ball through to Plata at the top of the 18, who took an unusual touch wide, but it threw his defender off enough for Plata to swing around him and send a left-footed ball to the far post, beating Vancouver 'keeper David Ousted in the second minute.
Olmes Garcia (Sub '74) came on in place of Joao Plata in his first game as a starter since going out with a hamstring injury in the home opener just as it was clear Plata was losing some steam. Garcia kept things interesting not only with his fresh legs, but with some very good passing all along the box.
Grade: A-
Chris Higbee is a former general manager of DeseretNews.com who continues to write about Real Salt Lake.