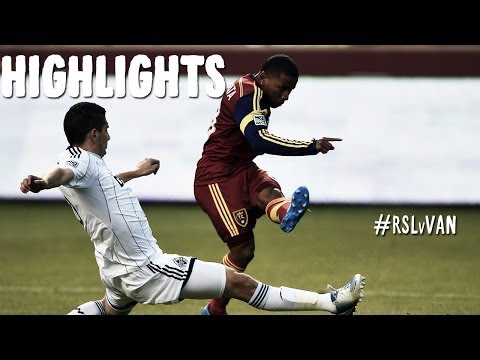 View 29 Items

It's all about results for us. We're obviously excited for Nick to get that shutout and tie Kevin Hartman's record, but at the same time we really wanted to get three points at home and if it doesn't come now, it will come at some point in the season.

—Nat Borchers
SANDY — Nick Rimando was back at work on Saturday, doing his best to imitate Clint Eastwood in "Gran Torino."
Get off my lawn!
Last week, the Real Salt Lake goalkeeper was impenetrable enough to get hired by Brink's.
In his business, security is everything.
RSL took on the Vancouver Whitecaps on Saturday and protection was the plan. It worked in the first half, but two late-game goals by Vancouver resulted in a 2-2 draw.
Rimando was in goal, as usual, attempting to tie the MLS record for career shutouts. Kevin Harman registered 112 shutouts in a career that took him to Los Angeles, Kansas City, Dallas and New York. Rimando — who stands at 111 — was on track until the 86th minute when he halted a shot in front of the goal that came off his chest. Nicolas Mezquida took the rebound and tapped it in, cutting RSL's lead to 2-1.
In extra time, Sebastian Fernandez launched a 30-foot blast that found the right corner.
The suspense was over.
Yet in another way, it is now just getting going.
What for 86 minutes looked like history ended up an exercise in patience. RSL's carelessness with the ball in the second half opened the way for Vancouver to ruin the celebration.
"It's all about results for us. We're obviously excited for Nick to get that shutout and tie Kevin Hartman's record, but at the same time we really wanted to get three points at home and if it doesn't come now, it will come at some point in the season," said defender Nat Borchers. "We're going to get two shutouts this season — sooner rather than later, hopefully."
Truthfully, this isn't an easy thing to pursue, even for the finest "Wall of the Wastach" since Mark Eaton. Rimando logged a shutout in the first game, in Los Angeles, thanks to nine saves — including a Robbie Keane penalty kick in the 93rd minute. In late March, he blanked Toronto 3-0. He missed two games in early April, due to injury, but returned for a 1-0 win against Portland last week that included three spectacular saves.
He has already been named MLS Player of the Week twice this season.
Though the rain had cleared by halftime on Saturday, it was the late goals that put a damper on RSL's proceedings.
"We could have closed this out relatively easy," said Real coach Jeff Cassar, "but we made it hard on ourselves."
While the issue of a shutout wasn't necessarily settled early, the outcome seemed to be. Real scored twice in the first nine minutes.
Just like that, Rimando was working on shutout No. 112.
RSL's first-half defense kept Vancouver from mounting any serious threats, other than a header by Jordan Harvey that Rimando pushed over the bar.
It was enough to warm the frozen hearts of even shivering RSL fans.
In the 56th, Vancouver's Kenny Miller got some space left of the goal and launched a slow try that Rimando gathered and cradled two-handed like a toddler. It was a move he would make more than once on the night — as though holding the record in his arms.
Mostly Rimando's play has been inarguable, at age 34. He embodies everything RSL represents: small profile with a lot of attitude. By many accounts, he should be playing in a bigger soccer league. The strike against him is that at 5 foot 10, he's undersized.
But that's not accounting for his quickness and anticipation.
Any more acrobatic, he could join the Flying Wallendas.
Comment on this story
"I just think now he's a complete goalkeeper," Cassar told reporters this week. "His distribution, his command of the box. He just really does it all now."
Just your average superhero, trying to make his 8-by-24-foot world a safer place.
That sort of play led up to Saturday. But when the whole team broke down, that left Rimando vulnerable for the closing moments.
"It stings a bit the first few minutes," Borcher said of the draw.
But as he said, the record — and wins — are sure to come.
Email: rock@desnews.com; Twitter: @therockmonster; Blog: Rockmonster Unplugged