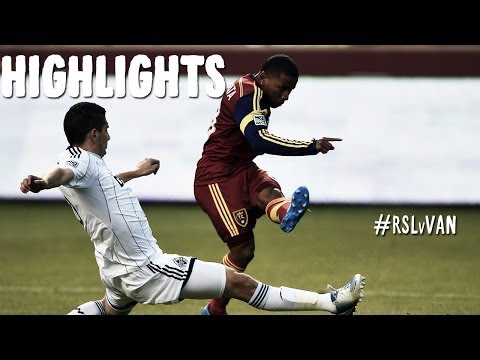 View 31 Items

SANDY — The dreaded stoppage-time equalizer broke Real Salt Lake's heart yet again.
For the third time this season, RSL left valuable points on the field, this time conceding a 94th-minute dagger as Vancouver overcame an early two-goal deficit to rally for the 2-2 draw at Rio Tinto Stadium.
RSL is still unbeaten after the draw (3-0-5), but it certainly didn't feel like it afterward.
The previous blown leads no doubt stung, but those games were on the road against San Jose and Philadelphia. Saturday's tie was at home, and RSL led 2-0 up until the 86th minute, making the result even tougher to swallow.
"It's something we're going to have to look at, and just being more cognizant and recognizing danger, but I think we could've closed this game out relatively easy. But we made it hard on ourselves by giving the ball away," said RSL coach Jeff Cassar.
In the first half, RSL was superb, scoring twice in the first nine minutes and putting the visitors in a huge cavern. In the second half, however, Vancouver increasingly started throwing numbers forward and the home side struggled to deal with it.
"They came out and just pressured us really high, so we weren't able to get the ball in the back and get any rhythm. They did a great job running in behind us and putting pressure on the back line," said defender Nat Borchers.
Vancouver outshot RSL 13-5 in the second half, but needed some luck to finally break through late. On a night when Nick Rimando was minutes away from tying an MLS record with his 112th career shutout, he spilled a rebound on a Darren Mattocks shot in the 86th minute, with Nicolas Mezquida right there to tap it in, cutting the deficit to 2-1.
The final dagger came in the fourth minute of stoppage time.
Seconds from three points and a first-place tie in the Western Conference, a bad touch in midfield by Alvaro Saborio gave Vancouver one more shot at an equalizer. Sebastian Fernandez responded with a golazo, uncorking a 35-yard cannon to stun RSL for the 2-2 draw.
"It's tough in the last play of the game. We've got the opportunity to clear the ball," said Borchers. "In soccer it's a cruel game. Obviously if we get past (Steven Beitashour's) tackle, we probably go out and score a goal and it's 3-1 and we go home a little happier."
Instead, Saborio's touch was a bit heavy and seconds later Fernandez finished the likely MLS Goal of the Week.
"We had the two-goal lead. We really needed to take care of the ball, and I thought we gave it away a little too cheaply, and we also got a little bit out of shape, giving the ball away in poor areas," said Cassar.
RSL's performance in the first half was anything but sloppy.
Defender Chris Wingert summed it up best.
"Energy was awesome. Our forwards were working so hard, defending too, they were incredible. We were firing on all cylinders, putting them under pressure, knocking the ball around, two good goals. We were playing how we like to play," said Wingert.
RSL's defender helped get the good feelings rolling in just the second minute.
Standing near the left touchline, he played a penetrating ball toward the penalty area that Luke Mulholland narrowly flicked into the path of an unmarked Joao Plata, who'd slipped in behind Vancouver's defense. Plata took one touch into the box and slotted a shot past Caps' 'keeper David Ousted for the 1-0 lead.
The start was Plata's first in over a month, and it didn't take him long to reiterate his value.
"Whether he comes in off the bench or starts the game, he puts the fear in defenders and I thought he did a great job tonight," said Cassar.
1
comment on this story
Seven minutes later, more crafty work in the box helped Real Salt Lake double its advantage. After Ned Grabavoy held off three Vancouver defenders near the top of the box, he found Saborio in a tiny pocket of space just a few feet away. RSL's leading scorer used his left foot to curl a wicked shot around Ousted for the 2-0 lead.
Real Salt Lake continued to dominate proceedings until halftime, outshooting Vancouver 9-3. The third goal eluded the home side, however, giving Vancouver hope in the second half.
Real Salt Lake now hits the road for back-to-back away games at Chicago and Houston, the last two matches before Kyle Beckerman, Rimando and Saborio join their respective national teams for the World Cup.