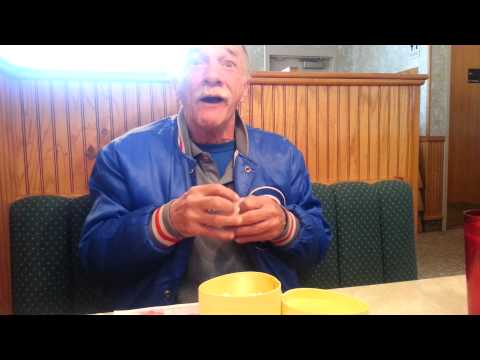 View 4 Items

YouTube seems to be full of pregnancy announcements and baby gender reveals, but one video posted last week has received more attention than others simply because of the sincerity of the father's reaction.
Jessica Hickey found out she was pregnant and was excited to share the news with her father, who's name was not provided. She gave him a present that contained a pacifier and a note explaining he was going to be a grandfather, and, of course, she recorded it.
Now, the minute-long video clip has received almost 500,000 views. Hickey posted the video on Reddit, explaining that her mother died 20 years ago and that her father has been anxious for a grandchild ever since she got married.
In the video, Hickey's father is slow to realize what the pacifier means but quickly becomes emotional as the connection becomes apparent.
The video, posted to YouTube on April 19, has received thousands of comments.
"Most honest expression of joy I've ever seen an adult make," user Achalemoipas wrote. "Looks like a kid finding out he got what he wanted on Christmas morning."
Brian Dawkins commented, "I hope someday that I'll be as happy as he was in that moment," which prompted several parents to share moments when their own kids have made them happy.
"When my 3-year-old daughter wraps her little arms around my neck and murmurs 'I love you, Daddy,' in my ear ... feels about like this," JorusC wrote.
"I have a 3-year-old daughter, too. Sometimes when I leave for work she stands in front of the door in her footie jammies and bars my exit. She'll say 'No, Daddy, I need you here,'" Intensenerd wrote. "It's one of my favorite things in the world."
User outerdrive313 also commented: "My daughter is 9, and it still gives me chills when she unexpectedly comes up to me and says, "I love you, Daddy!"
Email: [email protected] | Twitter: @Sarah_DNews