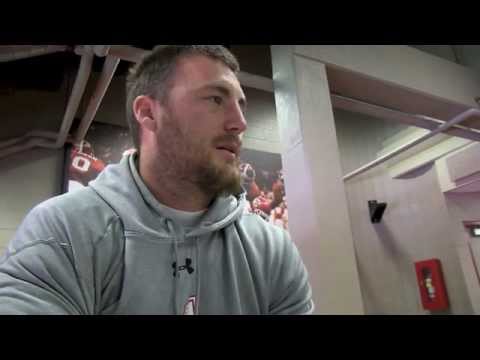 View 69 Items

Talk runs rampant leading up to the NFL draft each year as experts and pundits dissect prospects in an effort to understand and predict what the draft will bring.
2
comments on this story
Several local Utah prospects have received attention for this year's draft, set for May 8-10, including former Utah defender Trevor Reilly, an outside linebacker prospect. Reilly had an accomplished college career: during his four years, he displayed disruptiveness with 235 tackles, 20 sacks, 37 tackles for loss, eight forced fumbles and six fumble recoveries.
Reilly finished his Ute career strong with 100 tackles, 8.5 sacks and 16 tackles for loss in 2014, and he wrapped up Utah's win in the season finale with Colorado by intercepting a last-gasp pass.
How will Reilly's game translate to the pro level? When will he hear his name called come draft night? Media members and pundits have voiced their opinions, and we'll soon find out.
Here is a look at what some national draftniks are saying about the former Ute:
NFL.com's Nolan Nawrocki provided one of the more interesting descriptions of Reilly: "A country-strong, throwback, wrangler cowboy with the toughness desired to set the edge and the motor, intensity and competitiveness to produce effort sacks."
CBS Sports' draft profile on Reilly compares him to Manny Lawson of the Buffalo Bills, an eight-year veteran with 96 career starts: "Reilly has impressive agility and balance for a man of his size, which will be sure to intrigue teams looking for hybrid defenders. He's not as athletic as Lawson, but possesses a similar frame and plays fast due to his instincts."
The story of Reilly's 1-year-old daughter Shayn and her battle with cancer has caught attention. Writes Cincy Jungle's Anthony Cosenza: "As fans often seem to overlook, these gridiron heroes with seemingly superhuman powers have very human problems in their personal lives. While most of the media prefers to look at what players have done wrong in their path to the NFL, it's a refreshing look at a young man who has his priorities straight and is using football as a means to fully assist his family."
Arjuna Ramgopal of WEEI.com said the former Ute could be picked in the second or third rounds: "Reilly's big frame is enticing and his above-average athleticism, specifically his lateral agility, helps him get to the passer, making him an effective end-of-the-line player. However, Reilly isn't the quickest or biggest for an outside linebacker, and it shows on tape."
Rob Rang of The Sports Xchange and CBS Sports said Reilly could fit into San Diego's plans: "Reilly may not have a high profile from a national perspective but the 6-foot-5, 245-pounder is surprisingly nimble and an instinctive and productive defender capable of wreaking havoc off the edge or dropping back into space."
Pat Kirwan, CBS Sports NFL Insider, said Reilly's tape against two Pac-12 opponents proves the type of player he is: "Reilly is a former walk-on playing for his 1-year old daughter who had kidney cancer. Go watch the Arizona and USC games if you have any doubt about Reilly entering the draft at 26. He had 24 tackles and four sacks in those games."
Adam Carlson of The Viking Age said the former Ute could become a hot commodity come draft day because his size (6-5, 245) would allow him to play either defensive end or linebacker: "He's a solid tackler and decent enough in coverage where he shouldn't be too much of a liability. His major appeal should be his pass rush ability. Teams showed during free agency that they were willing to invest heavily in potential sack artists and we could see that again in the draft."
U-T San Diego's Tom Krasovic called Reilly's age, 26, a concern: "Reilly could be tempting in the third round, though some draftniks project him to go earlier. His toughness and maturity stood out in college. He is adept at reading offenses. His straight-line speed and strength profile well. Can he beat NFL tackles as a pass rusher?"
Rant Sports' Tyler Leli explained why Reilly is a good sleeper pick for Philadelphia: "The Eagles ranked last in the NFL in passing yards allowed in 2013, and one big reason why was that they had trouble getting pressure on the quarterback. One clear area that needs to be addressed to fix this is depth at linebacker, and Trevor Reilly looks a perfect fit. Reilly has great side-to-side quickness, has the strength to push back the line of scrimmage, and should be available late in the second round."
Sports Illustrated's Doug Farrar tabbed Reilly as someone who could fit in well with the Vikings: "Utah's Trevor Reilly or Florida State's Telvin Smith would be good later-round picks for a team in need of more range at outside linebacker opposite Chad Greenway."
Reilly wasn't able to fully participate in February's NFL combine, but he said in his latest USA Today draft diary he is grateful for the opportunities in front of him: "Your body is your commodity. At the end of the day, I can't complain because I get to play football and I get to live my dream."
Email: bjudd@deseretnews.com; Twitter: @brandonljudd