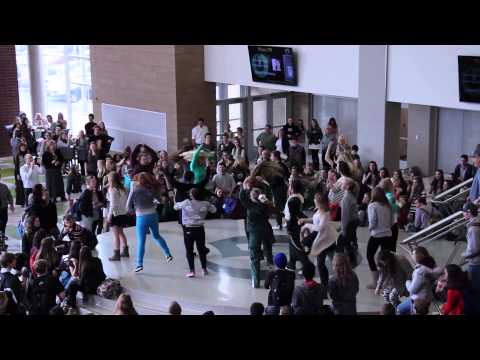 View 6 Items
Buy photos

It's really critical for our students to participate in service. It's a great way for our students to appreciate what they have and reach out, in a very small way, and help others.

—Olympus High principal Mark Manning
SALT LAKE CITY — If it wasn't for his football coach's commitment to doing more than winning football games with his young athletes, Connor Haller said he probably wouldn't care about helping other people as much as he does.
"I don't know if I'd have a desire to do it like I do," the Olympus senior said of participating in service projects with his team, his school and on his own. "Almost every week, after we watched film, we would go help somewhere, like with Eagle Scout projects or something. That's kind of where I developed my love for service."
Some weeks, that was a tough sacrifice for a teenage football player still recovering from a brutal Friday night game.
"You always feel good after service," Haller said. "You always feel like it was a good use of your time, even though sometimes you want a nap. The service makes you feel so great about yourself."
Haller is among 13 senior football players who earned scholar-athlete awards from the Utah chapter of the National Football Foundation and College Hall of Fame. The seniors apply for the award, which includes a crystal trophy, a ring donated by Jostens, and a $1,000 scholarship to the college of their choice. Earning awards for athletic accomplishment and/or academic achievement is nothing unusual.
But the critical component to the scholarships awarded by the group at the chapter's 20th annual banquet Tuesday night at UVU is commitment to community service.
"It's the most important aspect," said board member and Corner Canyon athletic director Steve Park of balancing service with athletic skill and academic accolades. "Because I think that's the true character of student-athletes. That aspect is really what shows what those kids are all about."
It's a priority that many high school coaches, teachers and administrators share. One of the service projects that Haller was involved in came from his participation in a service class, while another was a yearlong project undertaken by his entire school at the suggestion of their principal, Mark Manning.
Manning was at a national conference as part of his service for the Utah High School Activities Association's executive committee when he learned about Samaritan's Feet. It's a program that raises money to buy shoes for financially disadvantaged schoolchildren. He suggested it to his student body officers and a group that Haller belongs to, the Be Strong Committee.
"Mr. Manning just talked about how we're so lucky and fortunate to have this nice, new school, and he thought it would be a great way to show the community, and give back, that we really are appreciative and grateful," Haller said. "There are kids in our own district (who) aren't fortunate enough to have just the basics, like shoes. Our goal was to raise $8,000, which equals about 500 shoes, and give them to kids in our district."
Manning said that while he made the suggestion, it was the students who ran with the idea. Dozens of students assumed responsibility and leadership for the fundraising efforts, which spanned December and January.
"It's really critical for our students to participate in service," Manning said. "It's a great way for our students to appreciate what they have and reach out, in a very small way, and help others."
The project will end on May 2 when about 75 students, who either provided leadership or donated at least $20, will deliver the shoes to an elementary school in the district. Officials have already asked the elementary students to provide their shoe sizes if they want shoes, and Manning said nearly every student in the school has expressed a desire to have a pair of shoes.
"There's been a significant number of students involved," Manning said. "That's what makes you feel good about it. … They've done the work, and next the students have a chance to see where their money and effort goes."
He said the students plan to spend time with the students who receive the shoes.
"It's also about the friendship aspect of it," Manning said.
That's something Haller is looking forward to experiencing with his classmates when they deliver the shoes on May 2.
He said the way his teachers, coaches and administrators have handled service opportunities have made them memorable and impactful.
"You've got to have good service projects that kids believe in and that are meaningful to us," he said. "It's always valuable."
It's another service opportunity through a class at Olympus that's made maybe an even more lasting impact on Haller, who plans to serve a mission for The Church of Jesus Christ of Latter-day Saints this summer with the hope of walking on at USU or Utah when he returns.
"We visited Highland (Retirement Center) once a week," he said. "At first it was a struggle, just kind of awkward. Sometimes they didn't respond to us, so it felt like I was basically having a conversation with myself."
The students told stories, listened to their stories, played bingo and exchanged jokes. Soon a bond was formed that allowed them to do a favor for some of the residents at Christmastime.
"Some of them wanted to go to the Festival of Trees, so a few of us did it on our own time," he said. "It was a really cool opportunity."
He said it made him think about what they were like as youths and that he might be in their situation someday.
"I realized I never really have the chance to communicate with older people," he said. "I was grateful to hear their stories, bond with them and make new friends." His experience is exactly the reason the Utah Football Foundation puts so much of an emphasis on service.
"A lot of times with young athletes, they get so caught up in the accolades that come their way, they get a big head," Park said. "It's an easy thing to do, especially for young kids. These kids have that kind of success, but they've balanced that success with the ability to serve other people at the same time."
In addition to honoring the 13 scholar-athletes, the banquet will honor USU alum Bobby Wagner, who helped the Seattle Seahawks earn a Super Bowl title in February. He will meet with students before the banquet and then speak to those who attend, most of whom are high school players, parents and coaches.
Most of the Utah college coaches will attend as a show of support for the efforts of the organization and the accomplishments of the student-athletes, many of whom will play locally.
The banquet also honors outstanding juniors who meet the same requirements. Mike Jacobsen, the former athletic director at Utah Valley University and a founding member of the Utah chapter, will be honored for his contribution to amateur football. Wagner will be honored with a Distinguished American award. John Colosimo, the head coach at Juan Diego, will be honored with a Service to High School Football award. And Bob Blair will be honored as an official who has served high school football, as well.
Park said the focus on service is something started by the national foundation.
"We're just mirroring the national foundation and what they've tried to recognize," he said.
A complete list of award winners will be in Wednesday's Deseret News.
Twitter: adonsports EMAIL: adonaldson@deseretnews.com