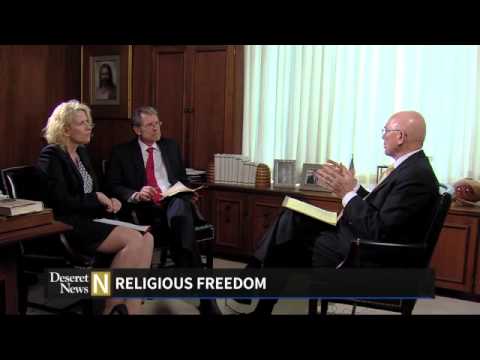 View 4 Items



On this week's Deseret News National Edition, Elder Dallin H. Oaks discusses religious freedom, Deseret News reporters examine the Ten Commandments, and Jewish women share their Gefilte fish tradition at Passover.
Segment 1
Elder Dallin H. Oaks of the Quorum of the Twelve delivered the keynote address at UVU's Spring Constitutional Symposium.
Before his talk, he told Amanda Dickson and Grant Nielsen he was not speaking as a leader from a church but as a concerned, knowledgeable citizen.
Elder Oaks served as a judge for Utah's Supreme Court and taught law at the University of Chicago. He explains why he believes more citizens need to take their fight for religion to the courts.
The Ten Today series has examined the Ten Commandments in modern society.
It seems social media is making it harder not to covet.
National editor Allison Pond explains how the psychology of envy drives consumerism.
Segment 2
The eight-day festival of Passover, which is underway around the world, commemorates the liberation of Jewish people from slavery in ancient Egypt.
The festival begins with a Seder feast, and gefiltefish is often served. We visited with a group of women as they prepared it and discovered a story of friendship and faith.
The concept of a Sabbath, indeed of a seven-day weekly cycle itself, traces back to the second chapter of the Old Testament book of Genesis, which describes God resting on the seventh day.
Reporter Mark Kellner discusses the fourth commandment and the difficulties of finding rest in a 24/7 culture.
Segment 3
"Bouncing back" is a term often used to describe a sports team enjoying a sweet victory after a bitter defeat. It is also the best two-word combo that captures the last nine months for Spencer Hadley.
The whole truth and nothing but the truth.
That is what our legal system demands and it is also the ninth commandment.
Reporter Amy Choate-Nielsen explores how well society is living the commandment to not bear false witness.
Today, Christians celebrate the life of Jesus Christ. Because of him, many believe death is not the end and we've all been given the power to change. The show ends with this Easter message. http://startingtoday.radiant.org/
The Deseret News National Edition highlights Deseret News content centered around six areas of editorial emphasis: family, faith in the community, excellence in education, values in media and culture, causes related to helping the poor and financial responsibility. Each week, the program goes in-depth on these topics and brings you insights from voices from around the country.