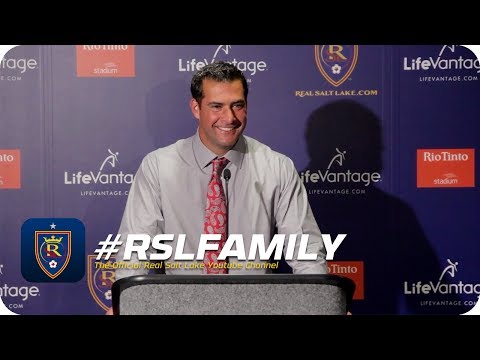 View 27 Items

The first 19 minutes of Saturday's match between Real Salt Lake and the Portland Timbers was reminiscent of a junior high bully keeping you out of the bathroom when you really had to go. RSL owned the vast majority of possession, while Portland tried everything possible to get past the Salt Lake midfield, let alone through the fortress at RSL's backline. But in the 19th minute, Portland's Darlington Nagbe snuck through a crack up the left side and nearly stole one while Salt Lake was looking the other way, if not for Nick Rimando's cat-like reflexes.
The rest of the game was more even, but just a little. Real looked the more dangerous of the sides throughout the night. Finally after what seemed like attempt after attempt, Ned Grabavoy rewarded the crowd's patience in the 78th minute with a beautiful strike that snuck under a diving Donovan Ricketts to give RSL the 1-0 win.
Goalkeeper
Nick Rimando returned to the starting line-up after sitting out with a knee injury incurred while on national team duty in the USMNT friendly draw with Mexico. His replacement, Jeff Attinella did well to earn draws in both games and a shutout in last week's bout with Philadelphia. Rimando showed why he's playing with the USMNT in the 19th minute when he turned away a blistering point-blank shot by Portland's Darlington Nagbe for his first save of the night to keep the score nil-nil. He went essentially untested until the 85th minute when Portland's Alvas Powell came up from the wing to pound another near point-blank shot at Rimando who managed to get a foot out to save the shot. He did it again in the 89th minute, diving to parry away a Gaston Fernandez shot that looked certain for the far-post upper 90 until Rimando put forth another save-of-the-week effort to push it wide. Rimando was Man of the Match.
And on top of that, there's still nobody better in MLS at distributing the ball out of the box.
Grade: A
Defenders
Tactics
Chris Schuler and Nat Borchers were in the middle, Chris Wingert and Tony Beltran on the wings. Nothing new. But that's why Real Salt Lake is one of Major League Soccer's stingiest defending teams so far in 2014.
Tony Beltran was a man on a mission Saturday night. He was typically very good in the attack up the wing, but it was his defensive positioning that was terrific Saturday. He was a step quicker than usual to get back on defense off the attack, and though Portland's first shot on goal came against Beltran, along with Ned Grabavoy they were able to keep the right side of the field pretty much locked down against Nagbe and Harrington.
Chris Schuler must remain healthy. Each game he's played this year, he's improved, and he's showing why a healthy Chris Schuler doesn't just make RSL's backline formidable, he has tremendous potential for national team aspirations.
Nat Borchers has strength, he has skill and he has tremendous field smarts. Speaking of the USMNT, why isn't he in the conversation more often?
Chris Wingert plays with patience and he plays with veteran skill. It's the little things, such as taking a ball wide from a goalie reset so that defenders clear the midfield where it can be played with more options. Good, sound, fundamental soccer.
Grade: A
Midfielders
Tactics
RSL fielded the standard midfield of Kyle Beckerman, Ned Grabavoy and Javier Morales with Luke Mullholland filling in for Luis Gil for the second game in a row while Gil recovers from a left hamstring injury. RSL and Portland are near-mirror images in the midfield, despite the fact that on paper Portland plays a 4-3-3. Portland's Kalif Alhassan drops into the midfield and Diego Chara drops into a central defensive position, making Portland essentially a 4-2-2 diamond the majority of the time. The matchup between Chara and Morales and Beckerman and Alhassan will be key to the outcome of the game.
Luke Mullholland gives RSL's midfield a shot of speed, which comes in very useful against Portland's quick attacking midfield. It also comes in handy on the attack, where Mullholland has been somewhat of a surprise. His vertical and diagonal runs into the box early in the game made RSL's attack much more dynamic. He lost momentum later in the game and by the 63rd minute he had to be subbed out for Sebastian Velasquez.
Javier Morales is one of the most fouled players in Major League Soccer because he's just so dangerous in the final third, and sometimes the only way to stop him is to foul him. That's what happend Saturday night. Portland had no answer for Morales during the run of play, giving Morales several free kicks around the box. Unfortunately, his quality on set pieces was not his usual.
Kyle Beckerman used a little "Will Johnson" Saturday night, often streaking right at players as the ball came to them. It's unnerving and can be very effective when followed by a quick reaction either way. And Beckerman's reactions were superbly quick Saturday night. As a result, Portland's two Diegos (Valeri and Chara) were ineffective in driving Portland's attack from anywhere in the middle of the field.
Ned Grabavoy was superb off the ball. He was superb with the ball at his feet. He was superb in defense. But when it came to his final ball, he fell short. Sometimes that's just how the game goes, but Saturday it seemed Grabavoy lacked concentration that's made his game one of the most exciting to watch at Real this season. That is until the 78th minute when he blew the top off an anxious Rio Tinto Stadium with a tremendous bit of skill to get just inside the 18 where he had no trouble finishing against a diving Donovan Ricketts far-post to give RSL a 1-0 lead.
Sebastian Velasquez (Sub '67) showed growth Saturday night. He's struggled with holding on to the ball a step or two too long during his time in Salt Lake, but Saturday he was still very good on the ball, but his passes were quicker and his defending was also much improved.
Grade: A-
Forwards
Tactics
Alvaro Saborio saw his red-hot strike partner of the first few games of the season make it back into the 18. Joao Plata started the game on the bench, while Olmes Garcia got the opening slot. Garcia played the first 63 minutes like it was the last game of his life, streaking all over the field in a single gear, high. He clearly knew the last 30 would belong to Plata, and most likley the lion's share in upcoming games should he remain healthy.
Alvaro Saborio is cagey. Everyone knows he plays mind games, but he is also just plain sneaky. On set pieces, he knows how to hide in a crowd, and 90 percent of the time off the ball, he's lurking in defenders' blind spots. All his tricks were on display Saturday night.
Olmes Garcia brings such speed to the forward line that everyone holds their breath whenever a ball is played into space in front of him. His sprint in the 39th minute to beat Pah Modou Kah to the endline and ping a cross perfectly onto Saborio's right foot nearly gave RSL the goal they needed to crack the game wide open, if not for Saborio skying the shot over the goal.
Joao Plata (Sub '67) was dynamic from the moment he stepped onto the field Saturday. His runs were dangerous, his passing was creative and he clearly had Ka and Danso remembering how he cut them to pieces during the playoffs last year with his quick runs and slice-and-dice play in the box.
Grade: B+
Chris Higbee is a former general manager of DeseretNews.com who continues to write about Real Salt Lake.