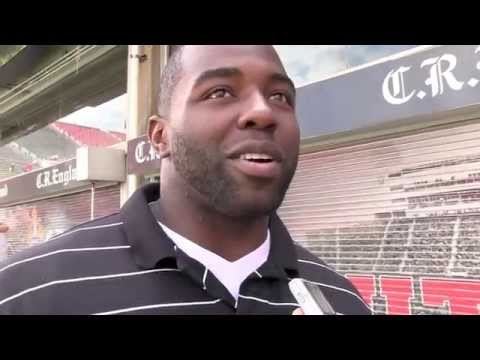 View 13 Items

It's always fun. Every time I come there's always something new that is going on. It's just a good feeling to be here and see the fans still recognize me and I still recognize certain fans. I'm just glad to be a Utah Ute.

—Former Ute Robert Johnson
SALT LAKE CITY — As usual, the Utah Utes rolled out the red carpet for their annual spring game at Rice-Eccles Stadium. Among the estimated crowd of more than 12,000 fans on hand Saturday afternoon were several former players who either participated in associated events or just checked things out from the sidelines.
"I love it. It's great," said Utah coach Kyle Whittingham. "Our alumni, they come back and they really give us a great deal of support, and that's something that is a strong suit for our program."
The feeling they have for the team and the desire to continue wanting to be a part of it, Whittingham added, speaks well to the experience that they had at the U.
"I love coming back," said Stevenson Sylvester, a linebacker with the Pittsburgh Steelers since 2010. "I love everything about it."
Sylvester, who recently purchased a home in Kaysville and trains at Utah's new football facility, added that there's nothing like Utah's Red-White Game.
"We love it. I wish I was here during the season. So maybe when I retire from the league I'll be able to come to more games during the season," he said. "But this is awesome. I love the fans. I support this team and this university so much."
Former teammate Robert Johnson, an NFL free agent who played safety for the Tennessee Titans from 2010-12, also enjoys his trips back.
"It's always fun. Every time I come there's always something new that is going on," said Johnson, who checked out the Spence and Cleone Eccles Football Center for the first time on Friday. "It's just a good feeling to be here and see the fans still recognize me and I still recognize certain fans. I'm just glad to be a Utah Ute."
Tony Bergstrom, a guard for the Oakland Raiders, had similar thoughts — even though he expressed a little good-natured jealousy about Utah's state-of-the-art football complex, complete with a chef overseeing the meals.
"It's always good to be back," he said. "Everything changes now. I come up here and get really annoyed because they didn't have any of this great stuff when I was here."
DEFENSIVE STANDOUTS: While much of the focus was on the offense, the defense had some bright performances despite being limited to a "base" scheme in the Red-White Game.
"I thought we did some good things," said defensive coordinator Kalani Sitake. "It was nice to see us make some big plays today."
Freshman linebacker Alex Whittingham led the victorious Red team with a game-high 12 tackles. Sophomore linebacker Sharrieff Shah Jr. topped the White squad with 11 stops. Redshirt freshmen Sal Velasquez and Filipo Mokofisi made interceptions and Daniel Nielsen recovered a fumble.
ALUMNI GAME: Before the spring game, the program's alumni held their annual flag football game.
"It was a lot of fun getting together with these guys. A lot of us don't know each other but with football comes kind of a built-in fraternity," said former Utah safety Steve Tate. "So you always enjoy seeing these guys. It's good carrying on and networking. There's a brotherhood here that will remain for a long time."
Scott Mitchell once again quarterbacked one of the teams.
"It's a riot," he said. "It's really fun. We lost this year, which is the first year I've lost, so I'm not happy about that. I might have to have practices to get ready next year."
STEPPING IN: Utah's honorary coaches for the game were Tristan Chidester and Mac Brennan, two youngsters who have battled cancer. Mac wasn't able to make the game because of a hospital stay associated with his leukemia treatments. He was able to watch the game, however, on a mobile device. His older brother, Patrick, took his place on the sideline for the Red-White Game.
"I want to say that Mac would probably do a way better job than I would be doing right now," Patrick said before kickoff. "Because he's been around this for I don't know how long. So that's all I want to say. Thank you."
LONG DRIVE: After missing the cut at the RBC Heritage in Hilton Head Island, S.C., pro golfer Mike Weir wound up at Rice-Eccles Stadium on Saturday. Weir and Whittingham are friends.
"I missed the cut by a shot this weekend, was in town and decided to come watch a little football," Weir said.
TAILGATE JUDGES: Prior to the action on the field, which began with the MUSS and then the alumni game, an "Ultimate Tailgate" contest took place out in the parking lot west of the stadium. The celebrity judges, who sampled 44 entries, included former Utes Bergstrom, Johnson, Trevor Reilly, Sylvester and Elijah Wesson.
1
comment on this story
"I've got a little heartburn. There's some sauce and meat in there," Reilly said. "They did a great job and those guys can really cook. But I need an antacid or a Tums, I think."
When asked if he would do it again, Reilly didn't hesitate in his reply.
"Of course. Anything to help out Utah," he said. "Plus the food was great."
Sylvester noted that the food was on point. He joked that he needed to find a hammock and his shades after the judging was over.
Johnson, meanwhile, said with a smile: "Let me just sit still."
Email: dirk@desnews.com
Twitter: @DirkFacer