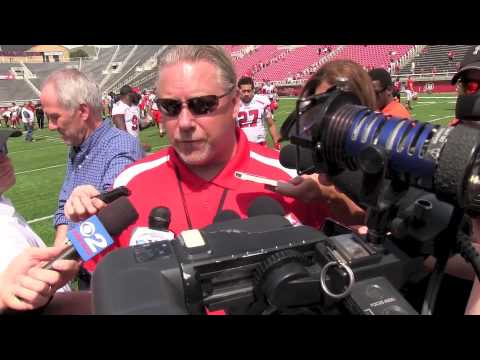 View 16 Items



I was happy with my performance. Obviously I didn't play that much, but the wide receivers did a good job of getting open and the line did great. This last week of spring ball we were getting in the groove and the tempo was getting a lot faster.

—Utah quarterback Travis Wilson
SALT LAKE CITY — All spring at Utah football camp, we've heard how the defense was ahead of the offense, which makes sense since the Utes have been installing a new offense under their sixth offensive coordinator in six years.
For Saturday's annual Red-White Spring Game at Rice-Eccles Stadium, it was the offense's turn to shine on a warm sunny afternoon as eight touchdowns were scored in a watered-down game that featured short quarters with many top players sitting out.
In the end, the Red team edged the White team 28-27 as a two-point conversion try by the Whites with 2:19 left to play failed.
But like most spring games, no one really cared who won. The main thing was watching some live football and seeing how a lot of the Ute players stacked up in competition. And what the 12,056 Ute fans, who showed up on a perfect spring afternoon wanted, was to see some good offense.
Each of the five quarterbacks who played had their moments, while junior college transfer running back Devontae Booker had a strong game with 103 yards on the ground.
Coach Kyle Whittingham was pleased overall with the offense, particularly the increased tempo over the previous scrimmage, while acknowledging the defense wasn't at full strength and running "vanilla" packages.
"It was good to see Dominique Hatfield make some plays, the running backs played hard and I thought each quarterback did some good things,'' he said. "It was a positive to have everyone but Travis (Wilson) live to see who was really capable of extending plays when everything breaks down.''
The good news in the quarterback derby, which won't be finalized until August after Oklahoma transfer Kendal Thompson joins the team, was that each of the quarterbacks did something positive in Saturday's scrimmage. The bad news was than none of the five stood out above the rest, and each had negatives either with fumbles, interceptions or missed targets.
Wilson, the incumbent starter who was thought to have a career-ending condition, played in just the first half and finished with 7-of-12 passing for 116 yards, including a 56-yard touchdown to Brian Allen on a bubble screen.
"I was happy with my performance,'' said Wilson. "Obviously I didn't play that much, but the wide receivers did a good job of getting open and the line did great. This last week of spring ball we were getting in the groove and the tempo was getting a lot faster.''
Adam Schulz, who started three games in Wilson's absence last year, looked sharp in completing 9-of-13 passes for 110 yards, including a 46-yard touchdown to Hatfield, one of the few downfield passes the quarterbacks completed all day.
"I thought it went well,'' said Schulz. "The spring game is all about fun, and I had fun out there.''
Redshirt freshman Connor Manning was the other quarterback for the White team and he had similar numbers to Schulz with 9-of-12 completions for 86 yards and a touchdown.
"This was my first spring game, so I was just going to come out here and have fun,'' Manning said. "We really focused on our tempo today, and I thought we did a really good job.''
A week earlier, Whittingham had been disappointed in the tempo of the offense, but he said it was improved Saturday.
"It's closer to what we envisioned,'' he said. "But it's still a little bit off the pace and we expect to get that remedied early on in fall camp. The guys are starting to understand and get a feel for what the expectations are.''
Redshirt freshman Brandon Cox had the most passing yards, 126, thanks in part to a 71-yard pass to Bubba Poole, who broke several tackles on a short pass before being tackled at the 3-yard line. Jason Thompson, a transfer from Wyoming, led the Red team on a 63-yard scoring drive in the third quarter, and he scored from a yard out. He was 3-of-4 for 39 yards passing.
Cox also was the best running quarterback, eluding defenders several times and finishing with 23 yards rushing. However, Cox also threw two interceptions in the red zone, one that was returned 52 yards by Filipo Mokofisi and one by Sal Velasquez that was returned 59 yards. Both would have been touchdowns except for saving tackles by Cox.
New offensive coordinator Dave Christensen was happy overall with the offense and the better tempo, but wouldn't single any quarterback out.
"They all played well and managed the tempo well,'' he said. "It was a productive spring and we feel good about what we accomplished.''
GAME NOTES: Whittingham said "about 80 percent" of the projected defensive starters didn't play to avoid injuries, including Nate Orchard, Brian Blechen, Eric Rowe and Jared Norris. … Besides Booker's 103 yards on 19 carries, Dre'Vian Young had 39 yards on eight carries and Troy McCormick had 34 yards on eight carries. … The top pass receivers were Hatfield, McCormick, Evan Moeai and Harrison Handley with four catches apiece. … Alex Whittingham, the 22-year-old son of coach Whittingham, led all tacklers with 12, while Sharrieff Shah Jr., son of cornerbacks coach Sharrieff Shah, had 11 tackles. … Defensive end Pita Taumoepenu had a sack, two tackles for loss and a forced fumble. … The Utes will begin fall practice the first week of August, and their first game is Aug. 28 against Idaho State.