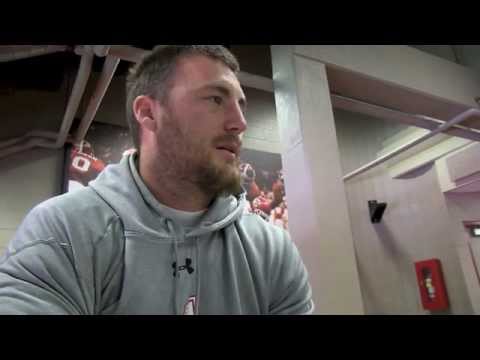 View 5 Items

Deseret News sports writer Dirk Facer caught up with former Utah standout Trevor Reilly, who is awaiting the NFL draft, at the Utes' spring game Saturday at Rice-Eccles Stadium.
Q: How are preparations going for the NFL draft?
A: They're going pretty good. They're pretty much done now. I'm just training for mini-camp now, kind of assuming I'll at least be on a team — rookie mini-camp. I want to be in good shape as far as doing my 40s until that stuff is over with. I've met with the teams I'm going to meet with and now it's just a waiting game.
Q: Any idea which round you're going to go in, or which team might take you?
A: I've heard as high as the second, maybe, to obviously I may go undrafted. But I think second to fifth round is probably a range for me. I'd love to be on a team and get a chance. … I'll play anywhere. Detroit, Cleveland, it's all the same to me. San Diego, even though I'm from San Diego, anywhere that's going to give me a job and give me a chance to play I want to be at.
Q: Coming back to Utah's spring game, is it hard or weird?
A: It's actually more fun because before I had to get dressed up. I had to stand back on the sideline and now I just get to go out and mingle and my wife is down here with me and my cousin. It's just fun to be out here and see some old friends. Yeah, it's fun.
Q: You've been a bit outspoken on the NCAA and student-athletes being compensated. What's your opinion on that?
A: I just wish they would give, just like any job, you want your fair market value. That's what I always say. What is my fair market value as a worker? We can compare it to let's say if I was working in a steel mill. If they were going to pay me five bucks an hour but I knew I was worth 20, would I take the job? No, I would go find somewhere else, another steel mill. The problem is in college football it's become a monopoly where I don't have another option.
So, me as the athlete, where else do I have to go? I can't negotiate a better deal. There is no minor league football. There is no other gig that's going to pay me what I'm worth so I'm kind of stuck. I would almost consider it an antitrust problem. Like I said it's become a monopoly. The NFL doesn't allow you to go to the NFL out of high school. And not only that, but you look at coach Whit and his staff they get their fair-market value. So who's to say that they're worth more than the guys that are playing and grinding it out? And I don't have a problem with those guys making their money, that's what they're worth. This is no longer an amateur sport. It's a professional sport.
For example, the University of Texas is worth $180 million — their football team — OK, this isn't the days of Woody Hayes making $60,000 a year as a football coach and you have two nationally televised games a year and you make enough money to break even. This is a day where football is professional and basketball is professional in the NCAA and so players should be compensated as well as the staff, where you've got janitors making more money here than we are as players. So that's how I feel about it.
Q: How do you see the future of the program even though it is coming off of back-to-back losing seasons?
A: I think coach (Dave) Christensen is going to come in and do some great things with the offense. I think Utah has had a rich tradition on defense over the years. I think that will continue with Kalani (Sitake) and coach (Kyle) Whittingham. I really think if they have a quarterback that can start and finish the season it will make a difference. We harped on it last year. I was there five years and it never happened once. We never had one start and finish the year. So it becomes an issue because you can get in a rhythm and guys get hurt and you have to change your offense up, so I think if that happens then we'll look forward to a bowl game."
Email: dirk@desnews.com
Twitter: @DirkFacer