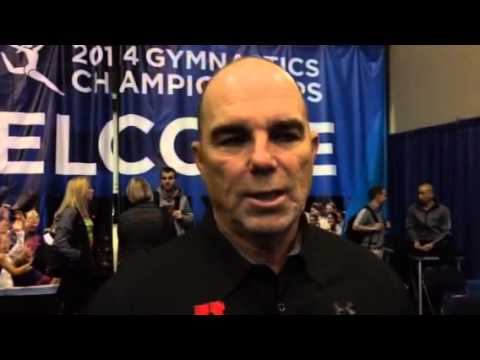 View 7 Items


BIRMINGHAM, Ala. — In some ways, competing in Friday's NCAA gymnastics semifinal can be more stressful than vying for a national title in Saturday's championship meet.
"This meet has possibly the most nerves, when you're trying to qualify," said Oklahoma head coach K.J. Kindler, whose team earned the top score (197.500) of the afternoon session of the NCAA Gymnastics Nationals.
That's a sentiment LSU's head coach D-D Breaux echoed after both teams and Georgia qualified for Saturday's Super Six. Georgia earned a 197.300 to advance, while LSU earned the final berth with a 197.100. Stanford (196.600), Michigan (196.425), and Illinois-Champaign (195.800) were all eliminated from the team title in the first of two semifinal meets held Friday at the Birmingham-Jefferson Convention Center in Birmingham.
"LSU was the tightest it's been all season long," Breaux said. "I think they were feeling the emotion and the pressure of having to get to the next night. So, that being done, we're going to really try to have a loose evening and really let the kids unwind and relax and prepare for tomorrow."
The top all-arounder was Joanna Sampson of Michigan, who scored a 39.550. LSU's Rheagan Courville was second with a 39.375, and Michigan's Nicole Artz was third with 39.375.
Neither Oklahoma or Georgia had a gymnast in the top 10 all-arounders. Breaux said they had to rely on some clutch performances from freshmen in order to qualify.
"We used freshmen in our lineup, and we got some great performances," she said. "We feel like our best kids, potentially our strongest scorers, didn't have their best nights. So the night was kind of carried by the front of our lineup in some cases, and the end of the lineup secured it."
All of the coaches expressed excitement about the potential for higher scores in Saturday's championship meet, as well as gratitude for the opportunity.
"We were real excited to be able to advance, but we did it the hard way," Breaux said. "We're looking forward to being able to do it tomorrow and being able to do it better."
Georgia head coach Danna Durante said her team dealt with the nerves better than usual because they struggled so mightly two weeks ago. Finishing on floor wasn't ideal for the team, but it ended up tying its second-highest floor score of the season.
"We did still leave some things out there, but I'm incredibly proud of this team," Durante said.
Breaux said the championship should be one of the best — regardless of who makes it out of Friday night's session. Utah will be competing in Friday night's semifinal against UCLA, Nebraska, Alabama, Florida and Penn State.
"I think without a doubt this really will be a Super Six," Breaux said, emphasizing the word super.
Twitter: adonsports EMAIL: [email protected]