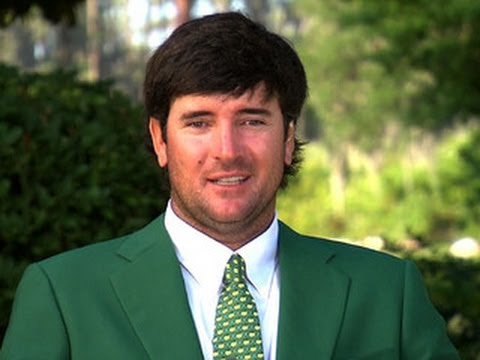 View 8 Items

Professional golfer Bubba Watson won his second green jacket at the Masters Golf Tournament this past Sunday, but his love of faith and family have kept him grounded through it all.
In an interview with "CBS This Morning" after his win, Watson shared how his family, especially his son Caleb, has helped him on the golf course and off.
"He puts life into perspective," Watson said. "Golf is a game. When I play bad, he doesn't care; when I play great, he doesn't care. All he cares about is Daddy give him a hug, Daddy pick him up. ... He's teaching me more than I'm teaching him, you know. He's teaching me about life, about how precious life really is."
Watson shared a similar sentiment with USA Today in another interview after his big win.
"Every day I try to get better as a father. It's like golf, I guess, it takes practice," Watson said. "If I become a better husband, the part of being a better father will shine through."
Watson shares his family life not only through interviews but Twitter as well.
Nothing like fake fishing with my boy!! #ProudDad pic.twitter.com/SRu78kA0JY— bubba watson (@bubbawatson) April 3, 2014
In the "CBS This Morning" interview, Watson also noted that he looks to his faith, the Bible and being a role model for his son in the midst of negativity.
"I want to be Christlike as possible," he said. "I'll never be perfect. I'm always going to mess up. My whole goal is to be the role model for my son, to be the role model, be the leader for my family and be the role model for my son. And I want him to look up to other athletes, whatever sport or other doctors, lawyers, president of the United States. I want him to try to be those things, but I want to be the role model, the guy he looks up to and tries to emulate or be better than."
Watson's website shares another testament to the value he puts on being a role model, not only for his son and family, but for other people as well.
"Bubba quickly recognized his responsibility as a role model to young kids and in 2008, without telling his family and friends, he decided to go back to the University of Georgia and complete his degree," the website says in the About Bubba section. "Bubba wanted to be able to encourage kids to get an education and pursue their dreams and therefore felt it was important to set an example. Bubba and his wife, Angie, are committed Christians who share a passion for philanthropy and dedicate as much time as possible to giving back."
And listed before any of his PGA titles, the Who Is Bubba Watson page on his website lists him as "Christian: Loves Jesus and loves sharing his faith."
Watson also gained large-scale attention for this humility and character when he visited Waffle House after his $1.62 million win on Sunday.
Champ dinner @WaffleHouse! #hashbrowns #covered pic.twitter.com/rXuaHtXqj5— bubba watson (@bubbawatson) April 14, 2014
"It's a testament to Bubba's character that even though he has two green jackets, he still comes to us for his grilled cheese and hash browns. All of the Waffle House Nation is proud today," Pat Warner, Waffle House's vice president of culture, told ESPN.com.
Alison Moore is a writer for the Faith and Family sections at DeseretNews.com. She is studying journalism and editing at Brigham Young University.
Email: amoore@deseretdigital.com, Twitter: @alison_kathleen