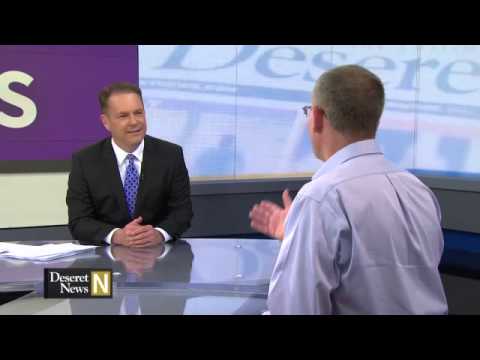 View 4 Items



This week's Deseret News National Edition tackles the Ten Commandments, ways to end poverty and forgiveness.
Segment 1
Ten utterances. Ten words. That is how some scriptural traditions refer to the imperatives Moses brought down from Mount Sinai on stone tables. Those utterances, known today as the Ten Commandments, transformed the world. But what might they mean for us today? The Deseret News explores that in a special in-depth series. Watch this for a preview.
When it comes to ending poverty, it's not a matter of money. That's according to BYU business professor Paul Godfrey who has just published his ideas on how to make the world better in the book "More Than Money." He discusses his ideas with Dave McCann.
Segment 2
It is the season of Lent for Christians around the world. The six weeks before Easter are spent in prayer, penance and repentance. Followers are called to forgive one another.
To begin a conversation on forgiveness, churches have been showing a very inspirational film. "Beyond Right and Wrong: Stories of Justice and Forgiveness" examines stories from large-scale conflicts like the 1994 Rwandan genocide, the Israeli-Palestinian conflict and the upheaval in Northern Ireland.
Screenings of this film are being held in conjunction with a group called FilmRaise. You can also watch the film for free on their website. They hope to reach 1 million views and raise $500,000 for various charities. Devon Dolan attended a recent screening.
The United States is seeing a decline in religious participation — but polling don't always allow for a nuanced discussion of faith and spirituality. Writer Sara Israelsen-Hartley gives a preview of her special report on the First Commandment.
Segment 3
Elaine Bradley is the drummer in the alternative rock band Neon Trees. She's also a wife and young mother. Her story is one of courage and conviction. Courage to change her life and the conviction to stick with it even when there is no end in sight.
Now to the words we use. Whether it's the Vice President's office tweeting out an "F-bomb" acronym or people on reality TV blurting out the Lord's name in vain, profanity and vulgarity are pervasive. But as writer Mark Kellner explains that doesn't mean foul language is widely accepted.
The Deseret News National Edition highlights Deseret News content centered around six areas of editorial emphasis: family, faith in the community, excellence in education, values in media and culture, causes related to helping the poor and financial responsibility. Each week, the program goes in-depth on these topics and brings you insights from voices from around the country.