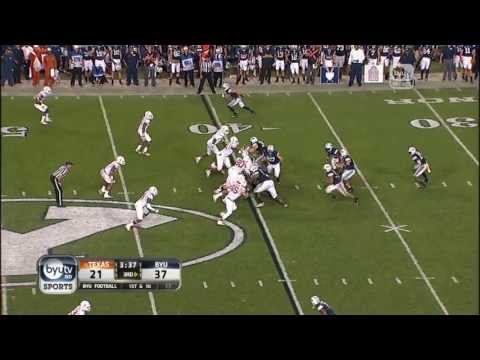 View 5 Items

Taysom Hill, BYU's starting quarterback, has accepted an invitation to be an instructor at the Manning camp.
The Manning camp is run by Archie Manning and his sons Peyton and Eli, NFL quarterbacks, and Cooper. The camp will be held July 10-13, 2014.
The camp, held every summer, often features some of the best college and professional quarterbacks in the nation. Last year, college players such as Johnny Manziel, Zach Mettenberger, Aaron Murray and Connor Shaw served as instructors at the camp. Andrew Luck, Philip Rivers, Sam Bradford and Matthew Stafford from the NFL also instructed. Former BYU Cougar Austin Collie also participated last season.
The 6-foot-2, 221-pound quarterback is entering his junior year after leading BYU to an 8-5 record last season. Hill threw for 2,938 yards last season, along with 19 touchdowns and 14 interceptions. He also rushed for 10 more touchdowns.
Officially confirmed Taysom Hill will be attending the Manning Camp. He's extremely excited about it! IMO, the hype train starts there #NFL

— Benjamin Criddle (@criddler21) April 8, 2014
What word/city will Taysom Hill come back screaming at the line of scrimmage after attending the Manning Camp? Pocatello! Burley! Blackfoot!

— Benjamin Criddle (@criddler21) April 8, 2014
Follow Trent on Twitter @TheRealTrento.