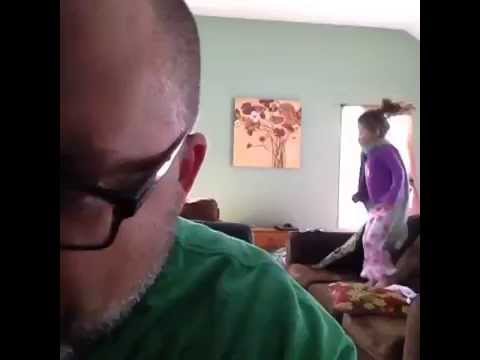 View 7 Items

Tony Serafini, a father of two daughters from Massachusetts, found his weekly Saturday routine to be humorous. Four days after he posted a YouTube video capturing this routine, the video has more than 1.5 million views.
Each Saturday morning for the past three months, Serafini has spent an hour with his 4-year-old daughter while his wife and oldest child are at dance class. Whether at his computer or on the couch, Serafini is always entertained by his dancing daughter and her loud music.
"My daughter has her own playlist on Spotify with all the top pop hits and a load of 'Frozen' and 'Despicable Me' songs," Serafini told TODAY.com. "It started with me just catching her being cute behind me while I tried to enjoy my coffee and check emails."
Serafini took six-second videos of his reactions to his daughter and uploaded them to Vine. Their popularity began to grow, and soon Serafini had more than 300,000 followers. It was then that Serafini decided to combine many of the short clips into a YouTube video.
"I'm completely shocked about the YouTube video," Serafini told Yahoo!. "I'm so happy because I think some parents can totally relate to it. My family and friends are extremely proud."
Although Serafini sports an annoyed expression in many of the Vine clips, he was quick to explain that those expressions are merely for comedic effect.
"I always try to catch her doing funny stuff," he said. "Of course, I add the grumpy face to exaggerate how tired parents usually are in the morning, while having their coffee."
Serafini and both of his daughters appeared on Good Morning America Tuesday morning to talk about their popularity. When asked why he films the videos, Serafini explained that he loves to document fun memories with his girls.
Email: [email protected] | Twitter: @Sarah_DNews