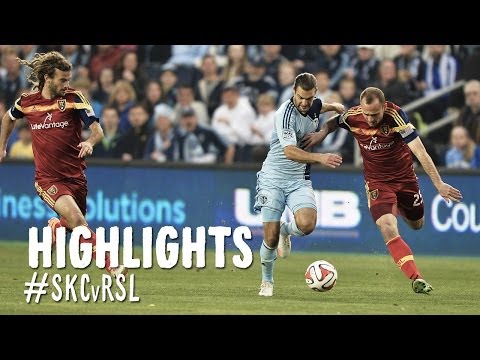 View 4 Items

Matches pitting Real Salt Lake and Sporting Kansas City are typically tense affairs, but after absences through injury for Tony Beltran and Nick Rimando came down the wire, the tension could only have grown.
This, the highly anticipated 2013 MLS Cup final rematch, didn't disappoint: It was as physical, grueling and demanding as expectations dictate.
Goalkeeper
Jeff Attinella: 8.5. There are too few superlatives for Attinella after Saturday. He made eight saves, with several of those genuinely top-quality. He won't have expected to start so early in the season, but Rimando being kept out with injury changed that. With shot-stopping ability and smart positional play — exemplified by an intelligent 1 v. 1 save against Dom Dwyer — Rimando wasn't missed nearly like everyone thought he would be. Is there a better backup goalkeeper in MLS?
Defenders
Rich Balchan: 8. In his first MLS start in over 30 months, Balchan was superb. He was one of Real Salt Lake's top field players on the day, and given he was faced with the always capable Graham Zusi on his side, that's something to shout about.
Nat Borchers: 7.5. As consistent as ever, Borchers dealt well with the danger that came at him. He and Chris Schuler are developing an ever-stronger partnership, and we were given another glance at that.
Chris Schuler: 8. RSL hasn't lost a regular season match (and only that single playoff match) since Schuler returned to action, and it's exceedingly clear that it's not a coincidence.
Abdoulie Mansally: 7. He's looked reckless in the past, but Saturday saw Mansally start and generally impress. With a bit more luck, he's on the end of one or two counter attacking plays — to have that attacking power and remain an effective left back is rare and valuable.
Midfielders
Kyle Beckerman: 7.5. Real Salt Lake's captain's fine run of form wasn't stymied with a difficult match against Sporting Kansas City.
Luis Gil: 5. A lot of young players, despite their level of talent, struggle performing on the road sometimes. Gil is talent — exceptionally so — but Saturday's match was one of those nights. He'll want to move on quickly, because he was very much found lacking.
Ned Grabavoy: 7.5. If you can count on one player to connect play and keep possession against a high-pressure side, Grabavoy is the guy. He was at the heart of the few genuine attacking opportunities had by Real Salt Lake.
Javier Morales: 7.5 Morales was everywhere on Saturday. Sometimes one of the deepest RSL players on the day, and sometimes the furthest forward. He was good on the defensive end and able in the attack. He was not at his most creative, and his deeper positions at times prevented more fluid attacking play from Real Salt Lake.
Forwards
Olmes Garcia: 5. Too frequently Garcia became disconnected from play, leaving those around him with more work to create attacking moments. He hasn't scored since July, and he didn't look any closer against Kansas City.
Alvaro Saborio: 5.5. Like Garcia, Saborio was disconnected for most of the match from the midfield. This meant he had no opportunities of note, and that he took exactly zero shots speaks to that.
Substitutes
Luke Mulholland: 6. He didn't influence play significantly, but Mulholland added some fresh legs to the midfield at a vital time in the match. In 30 minutes, he didn't create chances, but he did win the ball in good positions.
Devon Sandoval: 6. Sandoval's value as a substitute is obvious. He'll not only fight and scrap for every ball, and that was exactly the Sandoval that showed up 72 minutes into the match, and he was important to maintaining a draw, simply with his hassling and harrying of the opposition.
Matt Montgomery is the managing editor of RSL Soapbox. Contact him at [email protected].