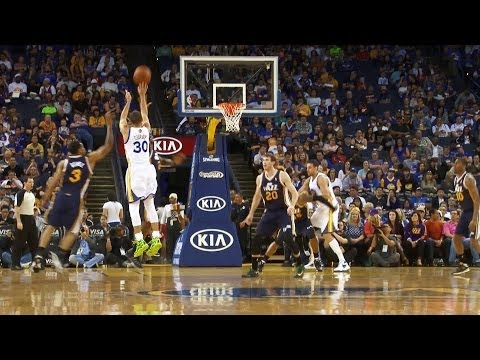 View 3 Items

Due to their prolific shooting and ability to light up from beyond the arc, guards Stephon Curry and Klay Thompson are dubbed the Splash Brothers. True to their moniker, the pair splashed the Golden State Warriors past the Utah Jazz in a 130-102 blowout victory.
In just three quarters of playing time, Curry and Thompson simply shot their way to brilliant performances, combining to pour in 64 points. Curry got things started, connecting on four of his five treys in the first six minutes of the game. The All-Star point guard tallied 20 points and 11 assists in the first half alone as he sliced and diced through the porous Utah defense repeatedly. He finished with 31 points and 16 assists in a mere 29 minutes.
His backcourt partner, Thompson, blistered the nets with seven 3-pointers. Thanks to his constant movement sans the ball, he was able to continually free himself for open jumpers. He scored 33 points in just 31 minutes.
As a result, the game was essentially decided in the first half. The Warriors continued their battle in the second half of the Western Conference playoff seeds. While there was once a chance of Golden State falling out of the postseason's eight teams, its recent success seems to have secured the Warriors a spot — much to the chagrin of the Jazz faithful. After all, Utah owns the Warriors' first-round draft pick per their offseason trade.
The loss keeps the Jazz with the NBA's fifth-worst record.
Free flowing offense: The aforementioned duo opened things up for their teammates, who took advantage of Utah's discombobulated and sometimes disinterested defense to ignite another signature offensive evening for Golden State.
Four other players eclipsed double-digit scoring as the Warriors managed to hit 52-of-90 from the field — a stellar 57.8 percent mark. Besides Thompson and Curry's 12-of-20 3-point shooting, four more Golden State players hit from that territory as the team went 17-of-33.
Paced by Curry's 16, the Warriors doled out 34 assists (assisting on 65.3 percent of their field goals). Despite the frenetic pace, Golden State only registered 16 turnovers — a brilliant, collective 2.13 assist-to-turnover ratio.
Odds and ends:
• Former University of Utah center Andrew Bogut and 18-year veteran Jermaine O'Neal corralled a collective 21 rebounds in 41 total minutes. Golden State outrebounded Utah 45-37.
Comment on this story
• Utah rookie Trey Burke had his hands full defensively, but went on to have one of his best stat lines of the year. In 40 minutes, he put up 24 points and a career-high 15 assists. Teammate Alec Burks also added 24 points off the pine.
• The three former Golden State players who were traded to Utah in last July's blockbuster had less than ideal evenings. Richard Jefferson, who averaged just 3.1 points per game for the Warriors last year, only had two points in 20 minutes. Brandon Rush did not play and center Andris Biedrins was not even in a Jazz uniform, as he was waived Saturday to make room for rookie forward Erik Murphy.
David Smith provides instant analysis for Deseret News' Utah Jazz coverage. He works for LDS Philanthropies and also writes for Salt City Hoops (ESPN's Jazz affiliate). He can be reached at mechakucha1@gmail.com or on Twitter at davidjsmith1232.