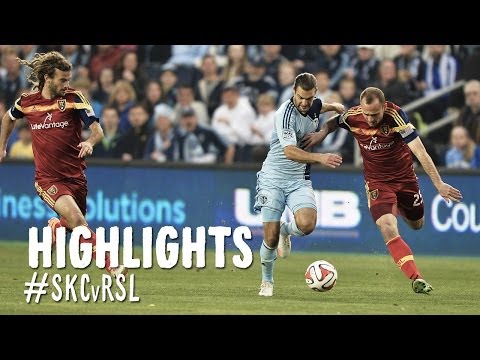 View 45 Items

I stepped up out there for warm-up and it literally felt like we played here two weeks ago," he said. "In your head you think, 'We just played here.

—Ned Grabavoy
KANSAS CITY, Kan. — There isn't a club coach in the world that doesn't worry at least a little bit when his players head off on international duty. For Real Salt Lake coach Jeff Cassar, those fears became a reality this week.
Nick Rimando and Tony Beltran were both in the starting lineup for the U.S. national team in Wednesday's match against Mexico, and both returned home with injuries that kept them out of Saturday's MLS Cup rematch at Kansas City.
Had the stakes been higher than an early-April regular-season game, the two RSL veterans might've been able to play. However, given the circumstances, RSL coach Jeff Cassar opted to play things safe.
"Rather than risk further injury, we just gave them this weekend off," he said.
Neither Rimando (knee) nor Beltran (ankle) are expected to miss more than a week or two because of their injuries.
Along with Chris Wingert's expected absence because of the groin injury he picked up last week against Toronto FC, RSL was forced to start a backup goalkeeper and two backup outside backs against the defending MLS champs.
The trio of Rich Balchan, Abdoulie Mansally and Jeff Attinella all came up huge as RSL earned a valuable road point amid difficult circumstances.
Attinella made nine saves to easily earn man of the match honors, but Balchan's performance might've been the most surprising.
Saturday's start was his first ever in a Real Salt Lake uniform, and his first of any kind since the 2011 MLS playoffs when he was with the Columbus Crew.
"Rich has been training fantastic all year long. He really came in this year fit, taking care of his body. He's confident, and today was the perfect time to get him into a game. He deserves it," said Cassar.
With Wingert and Beltran's status potentially up in the air for next week's match at Philadelphia, Balchan could be in line for a second start really soon.
STRONG CONTRIBUTIONS AGAIN: Luke Mulholland, one of RSL's only offseason acquisitions, made his fifth straight appearance on Saturday, coming on for the ineffective Luis Gil in the 55th minute.
He immediately helped settle things down for the struggling midfield, winning several balls along the sideline and pushing up into the attack at times.
"Luke brought a lot of energy. He's provided either a spark as a sub or solid starting minutes every time he's entered the field. What's he's bringing to our team is invaluable right now," said Cassar.
Mulholland has started just one match, but he's come off the bench as a second-half sub in the other four.
As for why Gil was off, Cassar said, "Luis kind of looked like his energy was a little bit off tonight, his touch was a little bit off tonight, and I told him, 'Hey, it's one of those nights.'"
CHAMPIONSHIP FLASHBACKS: Real Salt Lake's players did their best to treat Saturday's MLS Cup rematch like any other game.
And while the new faces in the starting lineup and much better weather made it relatively easy, midfielder Ned Grabavoy couldn't help but have some flashbacks.
"I stepped up out there for warm-up and it literally felt like we played here two weeks ago," he said. "In your head you think, 'We just played here.'"