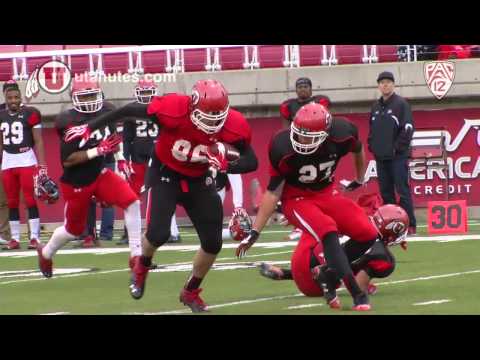 View 11 Items

I'm adapting pretty well. It's not that big of a difference. We've just got different concepts. So it's fun to be back out here and making plays. The offense is going real fast actually and we're adapting real well.

—Utah wide receiver Dres Anderson
SALT LAKE CITY — As Utah wide receiver Dres Anderson gears up for his senior season, he does so with a new offensive coordinator (Dave Christensen) and a new position coach (Taylor Stubblefield).
The changes, though, have done nothing to change his resolve. The Utes' leading returning receiver, who made 53 catches for 1,002 yards and seven touchdowns in 2013, is taking it all in stride — as usual.
"I'm adapting pretty well. It's not that big of a difference. We've just got different concepts," Anderson said. "So it's fun to be back out here and making plays. The offense is going real fast actually and we're adapting real well."
Anderson proved it in Friday's scrimmage at Rice-Eccles Stadium. He led the receiving corps with three catches for 114 yards and two touchdowns. Both scores came off passes from Travis Wilson, the first a 58-yard connection and the second from 37 yards out.
"Travis was super efficient today. He looked very comfortable and he was throwing perfect balls to us. Any time he does that the offense is going to be successful," Anderson said of Utah's starting quarterback, who is working his way back from an intracranial artery injury. "I'm very happy with his progress and him coming back and benefitting our team in a positive way."
Anderson insists he's very much invested in the latter. After redshirting in 2010, the 6-foot-1, 187-pound son of former NFL receiver "Flipper" Anderson hasn't missed a game — appearing in 37 consecutive contests with 25 starts, making 112 receptions with 1,722 career receiving yards and 13 touchdowns.
"I'm all about team right now," he said in the midst of his final spring with the Utes. "I want to make sure our offense is clicking at all levels."
Thus far, Anderson noted that the Utes are executing and getting everything down, even making big plays.
Among the biggest changes under Christensen are signals, he explained. A lot of the concepts are the same.
"We get better and better each day," Anderson said. "So it's been good."
According to Anderson, same goes for the quarterbacks. Wilson is the front-runner in a spring competition that includes Conner Manning, Adam Schulz and Brandon Cox.
"We've just got to be effective and eliminate turnovers," Anderson said. "Basically turnovers killed us off last year. If we eliminate turnovers we'll be great."
Anderson vows to do his part by making big plays for the team and getting things going early. He's also determined to make sure "I'm a leader on and off the field."
It's a role that Stubblefield said comes with the territory, albeit with some extenuating circumstances.
"There is going to be some adjustment. Not only with a new offense but also a new coach and having to meet the expectations that I'm asking for him," Stubblefield explained. "And then also being a senior — that's a positional leadership role that you're automatically thrust into and that's what Dres is in."
Stubblefield added that a lot of things are going to be different for Anderson this season. However, for the most part, some of the language in the offense is similar to what he's been a part of during his career at Utah.
"So if he works hard enough and it's really important to him it'll be a smooth transition," Stubblefield said.
Stubblefield acknowledged that Anderson is trying to be a team leader as well.
"Like I said, when you become a senior you are automatically thrust into a leadership role and Dres has a lot of ability," he said. "What people remember is your last year and so it starts with the seniors. Having great, strong senior leadership helps with the younger guys."
Email: [email protected]
Twitter: @DirkFacer