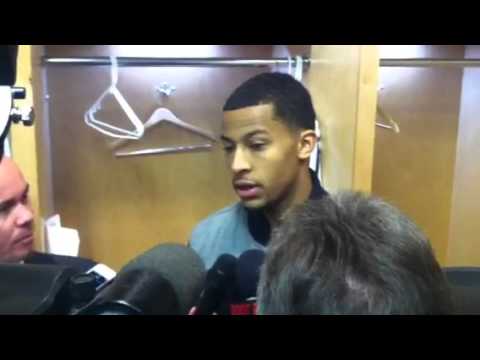 View 38 Items



SALT LAKE CITY — It looks like there's still some fight and some life left in these Jazz guys after all.
And some wins, too.
Alec Burks turned in his customary spark plug performance off the bench, and he and Gordon Hayward combined to hit 24 of 26 free throws — including four in the final seven seconds — as Utah snapped a five-game losing streak with a 100-96 victory over the New Orleans Pelicans on Friday night at EnergySolutions Arena.
Utah coach Tyrone Corbin was proud of the spunky, never-quit attitude his team showed in the face of what's become a terribly frustrating season.
"I can't say enough about how much I respect and appreciate the guys' fight all year long," Corbin said. "With all that's been said and all that's been talked about, these guys come in to work and, even when we don't play our best, they come back the next night looking to work again and getting back on the floor to fight for another opportunity. And we're going to need that to continue."
Burks and Hayward scored 21 points apiece, and Hayward also handed out six assists and had three steals.
"Regardless of the fact that we aren't in the playoffs, there is still lots to play for," Hayward said. "There is pride on the line and we need to get better, so we still have a lot to play for."
Derrick Favors contributed 20 points, nine rebounds and four blocked shots, while Enes Kanter was also in double digits with 11 points and grabbed seven boards.
"We just wanted to come out with a lot of energy, myself included," Favors said of his strong second-half showing. "I played like crap in the first half. I owed it to my teammates to come out and play with effort and play as a team and get this win."
As usual, Burks gave the Jazz a much-needed lift in a reserve role, which included a perfect 13-of-13 night from the foul line.
"Off the bench, he was clutch for us," Corbin said of Burks. "The way he can attack the basket, getting 13 free throws off the bench for us is huge for one guy. And we need him to continue to be able to attack the basket for us."
Marvin Williams, Trey Burke and Richard Jefferson also contributed to the victory, which was just the third win in the last 19 games for the Jazz (24-52), who have staggered toward the finish line of the NBA's regular season but certainly gave their faithful fans — and an announced attendance of 19,681 — something to cheer about Friday night at ESA.
And something for the embattled Corbin to cheer about, too.
"We talked about just being able to finish games," the Jazz coach said. "We still have to have the energy to have a chance to compete, even where we are with our development.
"And it's been a long year for these guys, man. They've been through a lot and we've just got to make sure we stay on the same page. We are who we are right now, and we have to have everybody focus on what we need to do to have a chance to be successful and finish it strong, and not just come out here and try to get the games over. We want to make sure we continue to develop."
Anthony Morrow scored a game-high 26 points for New Orleans (32-44), while Brian Roberts added 18 points and six assists for a Pelicans squad that made things mighty interesting in the closing seconds.
Utah held a seemingly safe 10-point lead, 93-83, with less than three minutes remaining when Roberts' conventional three-point play cut the gap to seven.
After a Jazz turnover, Morrow hit a 15-footer to trim the deficit to five points with 1:43 remaining. Favors and the Pelicans' Greg Stiemsma traded buckets inside to leave Utah's lead at five, 95-90, with 44.4 seconds to go.
But after Burks drove the baseline and was stopped short of the basket, Morrow buried a 3-pointer to make it 95-93 with 17.9 seconds left. And when Hayward was quickly fouled but made just 1 of 2 free throws a few seconds later, it left the Jazz with a three-point lead and gave New Orleans a chance for a game-tying shot.
8
comments on this story
But Darius Miller's 3 from the corner missed, with Burks pulling down the rebound and getting fouled immediately. He hit both clutch foul shots to make it 98-93, and after another 3-point miss by the Pelicans, Hayward hit two freebies of his own to finish it off.
"We drew up a play," New Orleans coach Monty Williams said of Miller's potential game-tying 3. "We get to where we can cut it to three, we drew up a play and it's one of the few times in an NBA game where you run the play perfectly, get an open shot, and we just missed an open look.
"That's really all you can ask for, especially on the road."
EMAIL: rhollis@desnews.com