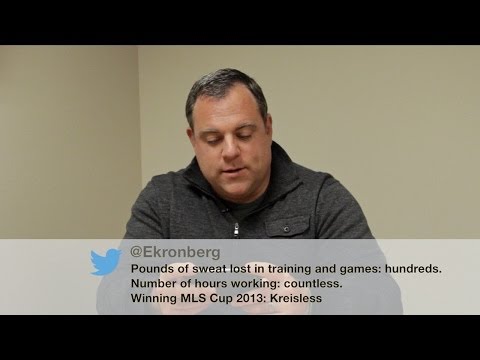 View 5 Items

SANDY — Several hours after his team claimed the MLS Cup last December, Kansas City reserve forward Jacob Peterson took to Twitter to trash talk.
The tweet has since been deleted, but in a nutshell Peterson said, 'Take that, Garth, I hope you enjoy your silver medal.'
Peterson's message was directed at Real Salt Lake general manager Garth Lagerwey, who leading up to last year's MLS Cup was pretty outspoken about Kansas City's physical style of play. Not surprisingly, those comments irked Kansas City, adding another layer to a rivalry that began several years earlier when a preseason match was halted because of a fight.
Kansas City went on to earn bragging rights by surviving the longest shootout in MLS Cup history last December, and Peterson took to Twitter to lash out at Lagerwey.
The back-and-forth hasn't really subsided either.
In the build-up to Real Salt Lake's return visit to Kansas City this weekend, players from both teams have fired shots across the bow.
When asked about facing Real Salt Lake on Kansas City's post-game show last week, Dom Dwyer said, "I hate them very much."
Midfielder Benny Feilhaber added, "They pride themselves on being the most possession-oriented team, but I don't know if I buy into that."
When RSL defender Nat Borchers was asked what he though about Dwyer's strong comments following training earlier this week, he told reporters, "I like it."
"I like when teams don't like each other, and we don't like Kansas City as much as they don't like us," said Borchers.
The mountain man of MLS expounded on those comments on MLSsoccer.com's ExtraTime Radio, "and when you talk about hate, I'll say it myself, I hate probably every team in this league and I think that's what makes me a competitor, so I don't think that's trash talking at all."
You can bet the feeling is mutual throughout both locker rooms, which makes this Saturday's MLS Cup rematch at Sporting Park one of the most interesting and hyped games of the 2014 regular season.
"We're just ready to batter each other and go after each other this Saturday," said Borchers.
Lagerwey's back-handed comment last December ignited the war of words. Prior to that, the preseason fight back in 2011 was realistically the only thing the rivalry could hang its hat on. Kansas City's stoppage time winner at Rio Tinto Stadium last July was a frustrating result for 10-man Real Salt Lake, but in many ways it was just another intense weekend match across MLS.
The MLS Cup clash was anything but ordinary after Lagerwey's comment.
So what exactly did he say to get Kansas City's players so riled up, something that still resonates four months later?
He said there's a lot to like about the way SKC plays, but … "We play diametrically opposed styles of soccer. We want to keep the ball, we want to possess, we want to attack. Kansas City wants to kick people, pressure you all over the field and try to rely on set pieces and turnovers to generate their chances," said Lagerwey.
"It's really an interesting rivalry in terms of where the league wants to go. To use facts: Kansas City leads the league in fouls committed by a wide margin. They wear their style on their sleeve. They're going to come in and try and intimidate and impose their style and even beat you up a little bit. They're not shy about that, they're proud of it. So I think the league has to decide do they want that kind of physical, rock-'em-sock-'em style, or do they want to play more of a passing, possession, beautiful game. And I think that's really why the rivalry comes into focus, because you see these two different directions the league could go."
Indeed, Kansas City led MLS in fouls committed last year with 511, a whopping 46 more than second-place Chivas USA. Real Salt Lake ranked 13th with 400 fouls committed.
It's worth noting, however, that RSL committed more fouls than Kansas City in three of the past five meetings over the past three years.
Heading into Saturday's match, Kansas City again leads the league in fouls with 73, but RSL ranks third with 68, a sign that new head coach Jeff Cassar is encouraging a more physical brand of soccer this season.
Cassar knows all eyes will be on the MLS Cup rematch, but he's trying to keep the hype and hate in perspective.
"We're not going to win the MLS Cup on Saturday, but we can put ourselves in a good position to get back there this Saturday," said Cassar.
Follow Real Salt Lake beat writer James Edward on Twitter @DesNewsReal